More than 25 public courses in 25 minutes!
Mother Nature may be slightly confused on the weather, but we are still very ready for golf season! Did you know that we have over 25 public golf courses in Oneida County? Since we live in such a large county, it's convenient to have a vast variety of courses spanning most cities and towns across #ocnewyork. And not only are there golf courses sprinkled across the area, but we also cater to just about anyone's level of play and budget.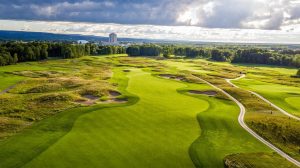 Are you a seasoned golfer who enjoys courses that challenge your game? Look no further than any of the five golf courses at Turning Stone Resort Casino. They boast three award-winning courses, two recreational courses and a sportsplex (so you can hone your game year-round). Their three award-winning courses have been recently named to Golf Digest's Editor's Choice: Top 50 Golf Courses in the U.S. While I have personally only played Shenendoah and their two 9-hole courses, I can attest that these golf courses are absolutely beautiful, perfectly groomed, and challenging! Most courses will be open for the season by April 29. Additionally, Turning Stone offers packages. If you're looking to visit the area and want to have your hotel accommodations packaged with rounds of golf, we encourage you to check out their website for more information. Their golf team will be happy to assist with planning!
Bonus: Some cool info about Turning Stone's Championship Courses (credited to their website):
Atunyote – This Tom Fazio design was home to the Turning Stone Resort Championship from 2007-2010. In 2006, it was the site of both the PGA Professional National Championship and the BC Open. Imagine vast stretches of open space, rolling hills, waterfalls, and lakes. Visitors will be able to walk the fairways that past champions like Tiger Woods and Dustin Johnson have walked!
Kaluhyat – Measuring in at just over 7,100 yards, this Robert Trent Jones, Jr. course was ranked one of the Top 100 Best Casino Courses by Golfweek. This course is marked by dramatic changes in elevation, measuring as high as 50 feet in some areas, and spectacular views of the surrounding terrain. Kaluhyat is a classic shot-maker's course, where accuracy and strategy are rewarded as much as length.
Shenendoah – Designer Rick Smith used the natural landscape to create wooded parkland holes, open pastures that capture the links feel, and beautifully simple low country-style holes. This course offers conditions normally reserved for TOUR professionals and was the host of the PGA National Club Professional Championship in 2006.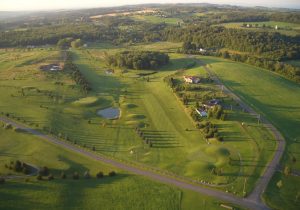 Aside from Turning Stone, there are plenty of other courses to choose from! Head to the western region and southern hills of Oneida County and check out local favorites, Barker Brook Golf Club and Crystal Springs Golf Course. At Barker Brook, visitors will enjoy hills and wooded areas with hazards coming into play on the front nine holes. The back nine will give you open rolling terrain and water hazards! If you want to improve your swing even further, check out their driving range.
Crystal Springs is a course that I attribute to me falling in love with the game of golf. I spent many evenings here learning how to play with one of my friends who would give me lessons after work. This 9-hole course is in Vernon and continues to make changes to give golfers a top-notch experience. From rolling hills to hazards to maneuver, it's ideal for golfers of any level. Don't forget to hit their brand-new driving range before your round and enjoy a drink and some food on their new pavilion after!
Over in the Rome area are courses such as Crestwood Golf Club, Rome Country Club, and McConnellsville Golf Club. Crestwood is a full-service, semi-private golf club offering a quality golf experience with a well-groomed 18-hole championship course with four sets of tees. Crestwood is a PGA recognized facility where you can rely on first class golf operations, state-of-the-art agronomy practices and exceptional service.
Rome Country Club is a Golf Digest rated four-star public golf course. They provide a very challenging and affordable round of golf while also entertaining you with their unique charisma. The course was originally designed by the late Geoffrey Cornish and presents his trademark undulating greens at quick speeds! They have hosted the NYS Women's Amateurs, USGA local qualifiers and more.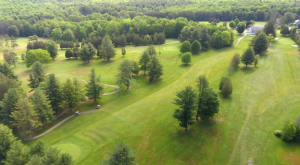 McConnellsville was established in 1941 when the McConnell and Charboneau farms were transformed into a nine-hole golf course. In 1967, plans were formulated for an additional nine holes. Today, there have been a series of updates to modernize the clubhouse and provide guests with an exceptional golf experience, great food, and inviting atmosphere. Golfers can expect a challenging round while being surrounded by towering trees and hills.
Utica is also home to great courses such as Valley View and Stonebridge Golf & Country Club. Valley View is a city-owned municipal course first designed and built in the mid- 1920s. The course was subsequently redesigned in 1939 by Robert Trent Jones, Sr. Often referred to by locals as 'The View', this is an exciting and challenging course that offers gorgeous views of Utica and will test even the most accomplished players.
Stonebridge Golf & Country Club features beautiful panoramic views of a pristine 18-hole golf course in the hills of New Hartford. Enjoy their on-site pro shop, driving range, and pitching/putting green to help get your game ready for the links.
Finally, golfers who may be looking for courses closer to the Adirondack Park will enjoy playing a round at Woodgate Pines Golf Club in Boonville. Woodgate is an 18-hole scenic course with a full-service golf shop and a cozy bar and grill. Nestled quietly amidst the confines of the Adirondack Mountains and the Tug Hill Plateau, Woodgate Pines lies in the basin of the Black River and sits within a short drive from the Adirondacks, Tug Hill, and Mohawk Valley.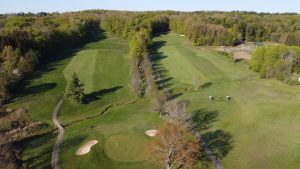 Aside from all the courses mentioned in this blog, it's hard to believe that there are several more within Oneida County! If there's one major theme in our area, it's nature and views. Each course provides space, nature, and a serene outdoor setting. It's actually quite common that you'll see deer strolling through the woods at more than one course on our list. We strongly believe that we are a major golf destination in New York State and the country because our courses are affordable, fun, and can suit any level of experience. Start planning your summer and fall golf now in #ocnewyork. You won't be disappointed (although we can't make any guarantees about your round of golf)!