Oneida County Tourism President Kelly Blazosky has been appointed to the New York State Tourism Advisory Council by Governor Kathy Hochul to represent Oneida County and the Central New York ILNY Vacation Region. The Council consists of appointed tourism professionals committed to supporting the New York State tourism industry and advising the state's Division of Tourism to help encourage economic growth through visitation.
Since 2009, Blazosky has led the promotion of Oneida County as Central New York's Getaway Region generating positive economic and social impacts for its communities through encouraging travel. Oneida County Tourism attracts visitors through active public relations and strategic marketing across multiple industry sectors including leisure, meetings, sports, travel trade and film/tv production.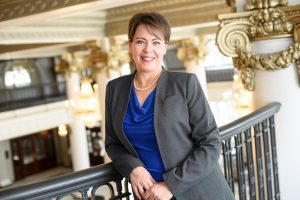 Under Blazosky's leadership, tourism marketing activations for Oneida County have been recognized with awards for Excellence in Tourism Marketing and Recovery/Resurgence campaigns from the New York State Tourism Industry Association as well as a National Graphic Design Award from Graphic Design USA. Industry recognition for Central New York under Blazosky's leadership include ten Communicator Awards, a coveted Telly Award for Brew Central's web video series and a Brand and Integrated Marketing Award from the U S Travel Association.
Oneida County Tourism Board Chair Lee Arthur, General Manager of Delta Hotels by Marriott Utica, said: "Kelly is a well-respected and dynamic leader of Oneida County's tourism industry and the greater Central New York Tourism Region. Her creative and proven expertise in destination marketing, not-for-profit management, and industry advocacy will be an asset to the Tourism Advisory Council. Our Board of Directors is honored and supports her appointment by Governor Hochul."
Blazosky remarked: "Oneida County and Central New York are blessed with an abundance of amazing natural assets, welcoming communities, and visitor experiences. I'm honored to be appointed to the State's Tourism Advisory Council and support the State's tourism promotional efforts."
Over her 23-year career in the travel and tourism industry in the states of New York and Ohio, Blazosky's leadership roles include:
NYS Destination Marketing Organizations, 2009-Present; President 2017, 2018
NYS Hospitality & Tourism Association, NYSDMO Board Rep 2017-2018
Central NY Vacation Region, 2009-Present; President 2015, 2016, 2021, 2022
NYS Tourism Industry Association, Board of Directors
Canal New York, Board of Directors
Adirondack North Country Association, Board of Directors
SKAL International Albany Chapter, Member
Ohio Association of CVBs, Board of Directors
Ohio Travel Association, Board of Directors
Ohio's Appalachian Country, Board of Directors
Ohio Governor's Travel Council Advisory Board
Blazosky's term on the New York State Tourism Advisory Council is effective to January 11, 2025.
Kelly Blazosky of Oneida County Tourism at the Doubletree Inn at Hotel Utica on Friday, September 22, 2017 in Utica, NY. (PHOTO BY NANCY L. FORD)