Oneida Indian Nation Unveils 'Passage of Peace' Cultural Art Installation to Raise Awareness Around COVID Impact on Western Tribal Nations and to Share Message of Hope and Peace with Local Community
The installation, launched in conjunction with Native American Heritage Month, features nine illuminated tipis in a show of solidarity with the Western American Indian Nations hit hardest by COVID-19 and a sharing of peace and remembrance among all during the holiday season. The Passage of Peace will run through the holidays and is located on Oneida Indian Nation lands just prior to Exit 33 of I-90.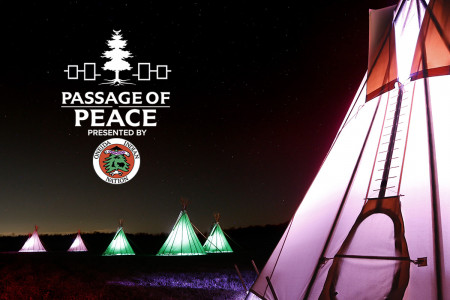 On November 15 during Native American Heritage Month, the Oneida Indian Nation unveiled the Passage of Peace. The cultural art installation features nine illuminated tipis located on Nation lands just prior to Exit 33 of I-90 and will run through the holiday season.
The installation's central image, the tipi, pays homage to Western Tribal Nations and the collective challenges faced by Native Americans. Although the Oneidas and other Haudenosaunee lived in longhouses, not tipis, the tipi offers a universally recognized symbol of Native American identity.
The installation also reminds all throughout Central New York of the importance of uniting in peace and remembrance during the holiday season. To read more about the Passage of Peace please visit www.passageofpeace.org.
"We hope The Passage of Peace will bring attention to continued hardship taking place in many parts of Indian Country, while delivering a message of peace and remembrance with our neighboring communities here in Upstate New York. The tipi has become a universally recognized symbol of Native American identity. It also represents the traditions of Indigenous Nations in the Western U.S., many of which have experienced tremendous loss of life and suffering during the COVID-19 pandemic."
Ray Halbritter, Oneida Indian Nation Representative and Oneida Nation Enterprises CEO