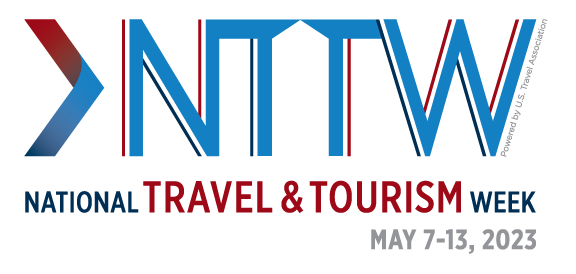 National Travel and Tourism Week, (NTTW) the annual celebration of the contributions of the U.S. travel industry, will spotlight the essential role that travel will play in driving economic growth and innovation through the theme #TravelForward. 
"The travel industry fuels every industry—our industry's success is the nation's success," said U.S. Travel Association President and CEO Geoff Freeman. "This week is a prime opportunity to elevate the message that travel is essential to moving America's economy forward." 
In Oneida County, the travel industry is a significant economic engine driving $2.7 billion in annual visitor spending, employing 19,939 people in full-time equivalent jobs generating $1.2 billion in household wages. Visitor spending contributes $134.3 million in state sales tax and $123.7 million in local sales tax revenue.
Oneida County Tourism (OCT) is recognizing travel's essential contributions throughout the week. On Thursday, May 11, OCT will host a press conference at 10:30 AM at Sickenberger Lane to launch the Oneida County Mural Trail. Later that day, OCT staff will visit all 51 hotels in the county and drop off cookies from So Sweet Candy Shoppe to show appreciation and thank their partners for their hard work and dedication to the tourism industry.  
OCT has also partnered with Advance Media to conduct 360 Virtual Tours at full-service hotels and venues such as Delta Hotels by Marriott, the Utica University NEXUS Center, and more. Filming will continue throughout the week and month. 
Said Kelly Blazosky, President of OCT, "Travel and tourism is an integral part of Oneida County, powering a strong local economy, creating jobs, and strengthening our community's culture and identity. This National Travel and Tourism Week, we are proud to celebrate all that travel does for our community now, and all that it will contribute to the future."
Established in 1983, NTTW is an annual tradition to mark the U.S. travel industry's role in stimulating economic growth, cultivating vibrant communities, creating quality job opportunities, stimulating business activity and elevating the quality of life.
Travel serves as a catalyst for a productive U.S. economy and helps power the success of other industries. The U.S. travel industry generated a $2.6 trillion economic output in 2022 and supported 15 million jobs, fueling communities, small businesses and working families across the country. Travel spending also generated nearly $160 billion in federal, state and local taxes in 2022—revenue that helped fund critical public services while saving each U.S. household an average of $1,270 in taxes. 
Please visit ustravel.org/NTTW to learn more about National Travel and Tourism Week.