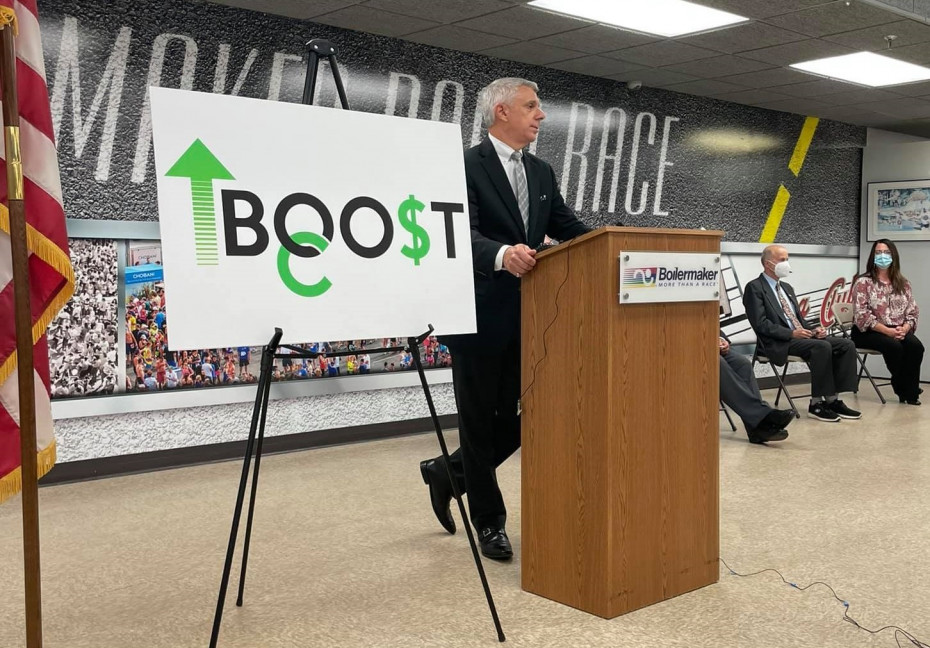 $100 Digital Gift Cards Will Benefit Local Businesses & Organizations
Oneida County Executive Anthony J. Picente Jr. today announced the official launch of the Boost OC vaccination incentive program that awards $100 in digital gift cards to be used at local businesses and organizations.
"We are still fighting this pandemic every day and the best tool we have at our disposal is the COVID-19 vaccine," Picente said. "Protecting our residents from this virus is crucial to reclaiming our way of life. For those who have not yet been vaccinated, I urge you to take advantage of the Boost OC program. Not only for the health and safety of yourself and loved ones, but also to help in the recovery of our local businesses and non-profits who have been devastated for nearly two years."
First announced in Picente's State of the County Address earlier this year, Oneida County's Boost OC program will issue $100 digital gift cards through a phone app to any resident who was vaccinated after July 15, 2021. The gift card can then be redeemed at a variety of local participating businesses and organizations. The money cannot be directly withdrawn.
Oneida County has partnered with Prizeout to administer Boost OC, which utilizes federal funds the county received from the American Rescue Plan. Businesses and organizations interested in participating should visit www.BoostOC.org to create an account. Eligible vaccinated residents will be contacted by the county.
Prizeout is a first-in-class ad-tech company that works with commercial partners across a wide variety of industries, as well as local and federal governments, to disburse funds in the form of digital gift cards. Through this partnership with Prizeout, Oneida County-based merchants and organizations of all sizes can easily sign up to have a gift card offered on Prizeout's platform. Residents of Oneida County will then use Prizeout's app to withdraw their Boost OC funds to these local businesses. This allows residents to have optionality in how they choose to spend their incentives, while ensuring that local merchants and organizations benefit from this program as well.
"The partnership with Oneida County truly embodies our mission to give people 'more for their money','' said David Metz, CEO of Prizeout. "Through this program, residents will not just receive these funds efficiently, but also have the opportunity to see added value on some of their favorite local stores and restaurants, which ultimately works to keep more money within the community."
In addition to being redeemed at local businesses such as restaurants and clothing stores, the county-funded gift cards can be used to donate to local non-profit organizations and even to pay for registration for the Boilermaker Road Race.
"The Boost OC program is great way to promote the health and safety of our community while also giving a helping hand to the many businesses and organizations who have suffered during this pandemic," said Boilermaker President Mark Donovan. "The Boilermaker is happy to participate and I thank County Executive Picente for his leadership and support throughout this difficult time."
Raymond J. Durso, Jr., President/CEO of The Genesis Group and Chairman of The Chamber Alliance said: "By endorsing and supporting this initiative, the Chamber Alliance believes it can provide awareness of the program to businesses and nonprofits throughout the County. Our goal is to assist the County in getting as many businesses to join the initiative and to offer prizes that will attract people…especially those that are not yet vaccinated," Durso added."
Kari Puleo, Executive Director of the Greater Utica Chamber of Commerce said: "Getting Oneida County to a higher vaccination rate remains critical, especially with the new threats such as the Delta variant that have the potential to derail our economic recovery. The Greater Utica Chamber applauds the efforts of Oneida County to encourage the unvaccinated to become vaccinated while also injecting money back into local small businesses and non-profits."
Bill Guglielmo, President of the Rome Area Chamber of Commerce and Vice Chairman of the Chamber Alliance said: "The 23-member Chamber Alliance represents 17 chambers and nonprofit organizations in Oneida County who are eager to promote the availability of this program to their respective memberships. The incentive program offered by the County Executive and Board of Legislators will generate economic activity among participating businesses by boosting sales while retaining jobs."
###