In a statewide collaboration coordinated by the New York State Tourism Industry Association, New York State residents are being asked to 'Roam the Empire' in 2021.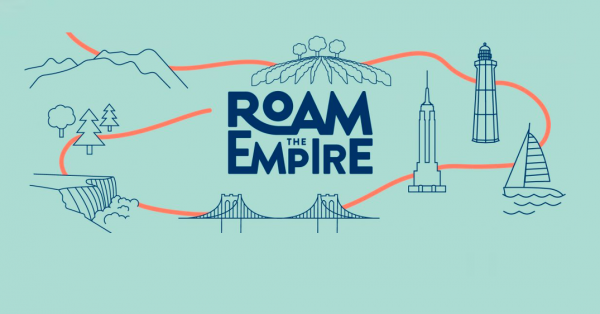 Destination marketing organizations, museums, attractions, and other tourism related businesses are rallying New Yorkers to 'Roam the Empire' and choose their home state when making their 2021 travel and vacation plans. Organizers of the 'Roam the Empire' initiative point to the major benefits that will result if New Yorkers choose to explore the Empire State and vacation in-state in 2021.
"In any given year, New York State's diverse destinations and attractions provide great reasons
for our fellow New Yorkers to plan their getaways within our borders," states Bob Provost, President of the New York State Tourism Industry Association (NYSTIA). "But this year is different. This year, New Yorkers choosing to vacation in New York will make a huge impact. They will help reemploy over 300,000 of their fellow New Yorkers who lost tourism-related jobs during the pandemic in 2020. They will help revitalize local businesses and communities. And they will restore sorely needed state and local tax revenue to help fund our state's economic recovery."
Oneida County Tourism President Kelly Blazosky said, "Tourism promotion agencies across New York state are encouraging New Yorkers to safely and proudly 'Roam the Empire,' and choose to explore everything their home state has to offer. It's more important now than ever before to explore New York's family-friendly destinations, plan outdoor adventures, or escape for a memorable spring, summer or fall getaway, while supporting local communities and New York businesses."
In a difficult year for New York's tourism industry, the 'Roam the Empire' campaign was developed pro bono by the highly regarded marketing firm MOWER and is being launched organically with no budget nor paid media planned. Participants statewide are supporting the program through social media, websites, and individual outreach.
Participating organizations (as of 4/28) include Adirondack Coast Visitors Bureau (Clinton County), Adirondack Frontier (Franklin County), Cayuga County C&VB, Inc., Chemung County Chamber of Commerce, Commerce Chenango Tourism, Corning Museum of Glass, Destination Marketing Corporation, Schoharie County, Destination Marketing Corporation- Otsego County, Destination Niagara USA, Discover Schenectady, Discover Seneca / Seneca County Chamber, Dutchess Tourism, Inc., Emerson Resort & Spa, Experience Cortland, Fort William Henry, Fresh Air Adventures, NY, Genesee County Chamber of Commerce, Great Western Catskills of Delaware County, Guides Association of NYC, Haunted History Trail of New York State, Lake George/Warren County, Mower, New York Press Service, New York's Best Experiences, New York State Tourism Industry Association, Nicholas & Lence Communications, NYC & Company, Old Forge, Herkimer County, Oneida County Tourism, Orleans County Tourism, Putnam County Tourism, Rensselaer County Tourism, St. Lawrence County Chamber of Commerce, Sullivan Catskills Visitors, The Wild Center, Times Union, Ulster County Tourism, Visit Binghamton, Visit Buffalo Niagara, Visit Rochester, Visit Syracuse/Visit Syracuse Film, Westchester County Tourism & Film and Wyoming County Chamber & Tourism.
Tourism is the third largest industry in New York State. The tourism industry has paid dividends for years to New York's economy, setting new records for economic benefit in each of the past five years. In 2019, the tourism industry attracted 265 million visitors and generated record high levels of impact:
– $72 Billion in spending at New York State businesses large and small,
– $39 Billion in disposable income and over 961,000 jobs for New York State residents and
– $9+ Billion in state and local taxes, the equivalent of $1,248 for every New York State household.
During the pandemic year of 2020, tourism was inarguably New York's most impacted industry. By year-end 2020, the tourism industry was devastated:
– Average annual employment declined 34%, a loss of over 330,000 jobs vs 2019 – nearly three times the employment impact in any other major category!
– An estimated 56% loss in travel spending and a corresponding 45% drop in tax revenues, the third most severely impacted state in the country!
The New York State Tourism Industry Association advances economic growth, job creation, community revitalization, quality of life and pride of place by realizing the potential of New York State's tourism industry and facilitating the success of its members. NYSTIA serves New York State's tourism industry through collaborative initiatives, research, legislative awareness, and exceptional marketing.
Mower is a strategically driven, intensely integrated, deeply digital, creative agency focused on building brands that truly connect with people and accelerate growth. Mower's travel and tourism specialty has buoyed the marketing efforts of destinations, resorts, hotels and attractions throughout New York State.
The Oneida County Convention & Visitors Bureau, dba Oneida County Tourism, the County's official tourism marketing organization, is a private, non-profit corporation dedicated to building Oneida County's economy and positive image through tourism and convention development, events, and the marketing of the county on a global basis.