The Kirkland Art Center is marking its 60th anniversary with an extensive exhibition, "KAC 60 Years of Art," that showcases the work of many artists who have had an affiliation with the art center at its founding, throughout its history, or in recent times. The exhibition begins a series of events celebrating the center's anniversary and the launch of a capital campaign.
The show at the KAC Gallery in Clinton runs from June 8, 2021 through the July 8, 2021. There will a reception to celebrate the artists on Saturday, June 12, 2021 from 1 pm to 4 pm.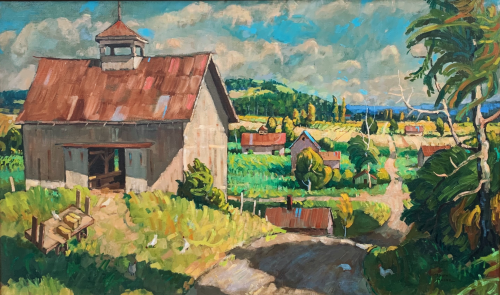 The artists selected for this exhibition have had a relationship with KAC over the years. The exhibition includes work by one of the art center's founders, Howard Chaney and the first executive director of the art center, John von Bergen, as well as other former executive directors Sylvia de Swaan, John Gardner and Gina Murtagh; former instructors W. Ralph Murray, Alba Scott, Vartan Poghosian and others; and previous board members including Steve Arnison, Barb Decker, Pinny Kuckel, Mary Loy, Roger Moore, Bill Salzillo, and Gail Strout. Many other well-known regional artists who are associated with the KAC are also featured in the show, with a full list available on the KAC website (www.kacny.org/gallery).
Everyone is welcome to enjoy this free exhibition, which is wheelchair accessible. Public health regulations will be followed. Gallery hours are from 10 am to 2 pm on Tuesdays and Thursdays, and from 1 pm to 4 pm on Saturdays. Call 853-8871 for information or visit the website at www.kacny.org.