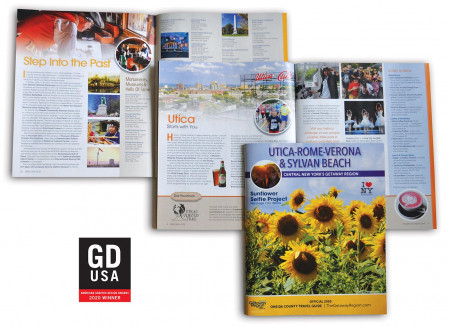 Local graphic design firm, IntreXDesign & Associates, received a national graphic design award from Graphic Design USA (GDUSA) for the 2020 Oneida County Travel Guide. The travel guide was designed by Jeannine Papelino, owner of IntreXDesign & Associates, and was published by the Utica Observer Dispatch.
Papelino said, "Designing the Official 2020 Oneida County Travel Guide was a dream come true for me. Utica is my hometown, and this special project gave me an extraordinary opportunity to promote this area's history, attractions and neighborhoods by using my creative talent in a way to benefit the community. One goal was to inspire locals to discover what's nearby and that became highly relevant with COVID-19. For me, it's my contribution to supporting the region and highlighting the numerous treasures this area has to offer its residents and visitors."
The Oneida County Travel Guide is a comprehensive, full color, 64-page guide that highlights the places, people, and events that make the area a premier destination. It was designed to capture the attention of readers with impressive visuals and useful information. There are special sections for a variety of interest groups including families, foodies, art lovers, heritage travelers, golfers, fisherman, winter adventurers, sports buffs and more.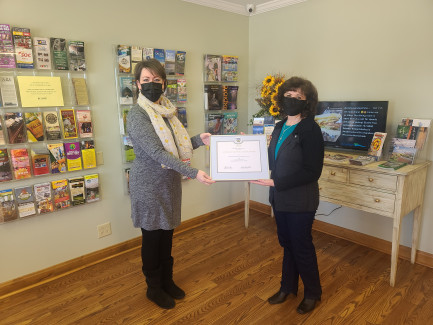 Oneida County Tourism President Kelly Blazosky said, "The 2020 Travel Guide included fresh new layouts for the community overviews and features, new 'Did You Know' and 'What to Know' highlights, suggested itineraries for the five areas of the County, as well as updated content and images. It also featured a new creative map of Oneida County attractions illustrated by Price Design. It was a pleasure to work with Jeannine on the project. Her attention to detail is unparalleled. We congratulate Jeannine on her achievement and are honored the Oneida County Travel Guide was chosen for this recognition."
The annual publication is available at Oneida County Welcome Centers located at NYS Thruway, Exit 31 and in Union Station, Utica, as well as various locations throughout the County. Local businesses and individuals can request a guide via the OCT website. For an electronic version of the Travel Guide visit our website https://www.oneidacountytourism.com/plan-your-trip/travel-guide/.
Graphic Design USA is a national resource for creative and design professionals, and their annual competition honors large corporations, organizations, and design firms whose design work shapes commerce, culture, and causes. The 57th Anniversary Print Edition is a 200-page GDUSA Design Annual, an end-of-year tradition, distributed to a national audience—seen by over 100,000 colleagues and clients each year. Roughly 10,000 entries were submitted; a highly selective 10% are chosen as a winner.