The Community Foundation of Herkimer and Oneida Counties has committed $1,000,000 to ICAN's Family Resource Center, which will also house a new, state-of-the-art Children's Museum.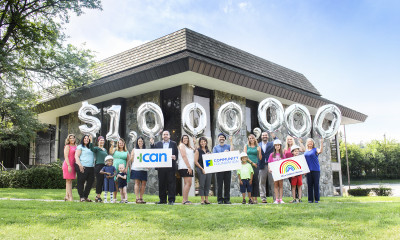 Before board approval of the multi-year community investment, the Community Foundation worked with ICAN from the very beginning of this project—and as a longtime supporter of the Utica Children's Museum, working to bring ICAN and the museum organization together in a collaborative model. This continued partnership of the two organizations will ensure that the new project not only comes to fruition but will also create one of the largest and most significant resources for children and families in this region.
"A project of this magnitude provides equitable opportunity not only for the agencies involved, but for so much more—our neighborhoods, our families and our region's economy", said Alicia Dicks, Community Foundation President/CEO. "We initiated and continue to support the ICAN-Children's Museum collaboration because the work they do for children and families is central to the Community Foundation's vision: a vibrant region with opportunity for all."
The $1 million gift provides an excellent foundation to the overall project total of $14 million, which includes site improvements and parking lot, a new roof and elevator, ICAN and museum space renovations, museum exhibit design and fabrication and the addition of a rotunda—a signature architectural element on the south side of the building at 106 Memorial Parkway, Utica.
ICAN CEO/Executive Director Steve Bulger adds, "This promises to be a destination where all families can meet, interact, and spend time together—those with the highest need, and those just in need of quality time. Generations to come will benefit long into the future because of this transformational project. We can't thank the Community Foundation enough for being an amazing catalyst and partner for us and for continuing to support children, families and quality of life in our region."
About the Family Resource Center
The Family Resource Center will unite two of our region's greatest assets:
ICAN's youth and family programs and the Utica Children's Museum. A hub for learning, wellness, connectedness and FUN, this will be the first time that a
children's museum is co-located and partnered with a human services non-profit.
Project timeline:
Summer 2021: Project groundbreaking
Summer 2022: ICAN opens Family Resource Center for services
End of 2023: Grand Opening of the new Children's Museum
ICAN programs such as Supervised Visitation, Healthy Families and Nurturing Parenting will be housed at the new Family Resource Center, all of which will utilize the museum space for family bonding, confidence building and ultimately for making families stronger. Select ICAN administrative departments will also be housed at the new location.
The new museum will be located on the second floor and in the rotunda of the Family Resource Center. It will provide a space and be a catalyst for post-pandemic healing for all and will offer needed
socialization, connection and joy as well as hands-on educational experiences

aligned with school curricula to help students get back on track after an extended loss of learning.

Close to the Parkway Recreational Center, Val Bialas

Ski Center, Utica Zoo and the John S. Dyson New York Energy Zone, the

museum

will enhance this family-friendly district of the city.

Regional and national experts are assisting with the project from architecture and conceptualization to creation of museum exhibits and ensuring Universal Design principles are integrated.




ABOUT ICAN

Founded in 1997, ICAN is a unique home and community-based network that provides individualized and non-traditional services and care to the highest risk individuals and families with social, emotional, mental health and behavioral challenges. ICAN's team of over 170 staff consisting of care managers, service coordinators, social workers, support specialists, clinical staff and an extensive Independent Practice Association (IPA) of 250+ providers work together to provide a platform for support, family reunification and preservation to over 1,900 individuals and families each day – prenatally through end of life.

ABOUT THE COMMUNITY FOUNDATION

Founded in 1952, The Community Foundation of Herkimer and Oneida Counties envisions a vibrant region with opportunity for all. In fulfillment of its "Engage. Invest. Lead" mission, The Community Foundation has transformed decades of donor generosity into $100 million invested in social impact initiatives, collaborative leadership and grantmaking. Find out more at

foundationhoc.org

.