The Utica Zoo is in mourning over the sudden loss of its red panda, Muse. According to Zoo staff, the 10-year-old male showed no signs of illness leading up to his death that occurred before the Christmas holiday.
Preliminary results from Cornell University College of Veterinary Medicine indicates Muse died from an acute gastrointestinal impaction. The blockage contained his normal diet and did not appear to include any foreign objects. There was also evidence of an intestinal infection, however the cause of the infection and final results are still pending from Cornell.
"We are heartbroken by the sudden and shocking loss of Muse," shares Utica Zoo Deputy Director of Life Sciences and Facilities Jay Pratte. "One day he was behaving normally, interacting with an experienced keeper and on exhibit for guests; the next morning the same keeper was stunned to find that he had died overnight. Our veterinary team was immediately notified and Cornell contacted for assistance with a necropsy (human equivalent of an autopsy) to ascertain cause of death."
"The loss of any animal impacts the zoo staff at all levels; the fact that this tragic loss occurred so unexpectedly while we're still under the cloak of grief from losing Ming Yu has been just terrible. We're grateful for the comfort being shared amongst the team, from our board and volunteers and from our community" says Utica Zoo Executive Director, Andria Heath.
Muse was born in 2011 and came to the Utica Zoo from the Red River Zoo, North Dakota, in 2012. He and his mate, Ming Yue, had two groups of cubs, including Xiaobo and Mei Lin in 2019. Ming Yue passed in October of this year due to acute aspiration pneumonia. They were the only two red pandas presently in the Utica Zoo's collection.
"Despite the holiday season, the Cornell team sent back preliminary results very quickly," explains Pratte. "This was another acute event (sudden and severe in onset), similar to our loss of Ming. However, that's where the similarity ends."
"We know there was a mass of partially-digested normal food items and plant material found in Muse' system, along with some inflammation that will be further examined," Pratte explains. "For those of us with dogs in our homes, we know how severe impaction can be. The deaths of our beloved red pandas is a severe blow to the team and to the community that loves them. While they did occur in a relatively short period of time, the two incidents appear entirely unrelated."
Pratte indicates that regardless of the cause, the team has been poring over records, animal care logs, and reviewing any changes that may have recently occurred.
"It is our intention to learn everything possible we can from the situation in order to move forward. We have reached out to USDA and to the Association of Zoos and Aquariums to keep them informed of our loss, request further guidance, and ensure that we are still committed to the ongoing planned management programs."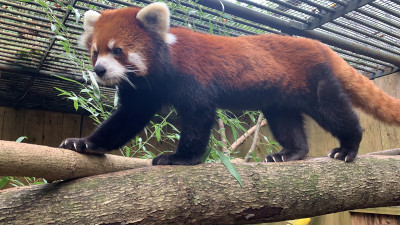 Red pandas are classified as an endangered species, and the Utica Zoo has worked closely with the Red Panda Species Survival Plan for management, breeding, and in conservation efforts. The Zoo will restore its collection once the proposed new, four-season red panda habitat is constructed.
"The Utica Zoo has been in the development process to expand the red panda habitat with a new enclosure for some time, says Pratte. "We will take this opportunity to closely examine how we might improve the environment even further so that we can remain active in the AZA management programs while continuing to provide a future home for one of the community's signature and best-loved species."
"We will provide updates as we receive them," he adds. "Please keep the animal care and veterinary caregivers in your thoughts. The team provided dedicated, daily care to these animals, and their loss equates to that of loved ones. The Utica Zoo appreciates your ongoing support through what is proving to be a challenging year for all of us."
To stay connected to the Utica Zoo, visit uticazoo.org and follow on Facebook, Twitter, and Instagram.