Broadway Theatre League of Utica has named Sleep in Heavenly Peace as its "Beyond The Stage" recipient for the upcoming performances of the smash hit Charlie and the Chocolate Factory.
Through its local chapters, the national nonprofit organization builds, assembles, and delivers quality beds to children who are actually sleeping on the floor. Run solely by volunteers, Sleep in Heavenly Peace strives to provide children with a safe and comfortable place to lay their heads down at night.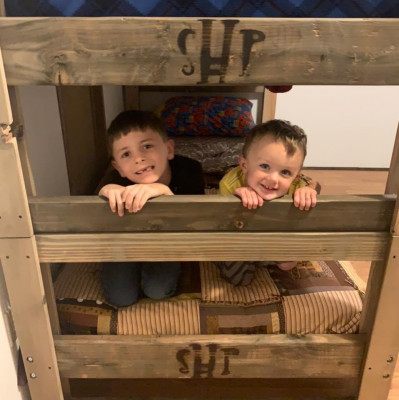 "Sleep in Heavenly Peace is the perfect tribute to Charlie. Their mission that no child sleeps on the floor made it easy for us to choose them as Broadway Utica's 'Beyond the Stage' recipient," Danielle Padula, Executive Director of Broadway Utica, said. "We've been inspired by the efforts and mission of this national non-profit and the impact on the one comfort we take for granted — a bed. Sleep in Heavenly Peace is a beautiful organization with a big heart. We are honored to have them in our town."
According to numbers collected by Sleep In Heavenly Peace, roughly 2-3% of children in the U.S. are without beds. Through this initiative, Broadway Theatre League of Utica will draw attention to the organization's mission and is calling on the public to donate comfortable bedding accessories such as pillows, comforters, and sheets, that will provide recipients with a more restorative sleep experience.
"We are delighted to partner with the Broadway Theatre League. The enthusiasm their team brings to the table leads me to believe this event will not only provide Sleep in Heavenly Peace with opportunities to continue fundraising for the children in our area, but it will also bring awareness of what we do. This partnership is going to be instrumental in getting so many more kids off the floor and into a bed which supports our mission: No kid sleeps on the floor in our town!" stated Theresa Swider, Volunteer Application/Delivery Coordinator for Sleep in Heavenly Peace.
Broadway Utica will collect donations at its home office, located at 258 Genesee Street in Utica, and also during the premiere of Charlie and the Chocolate Factory on February 8th and 9th. Sleep in Heavenly Peace's wish list includes:
Twin Sheets
Twin Comforters
Pillows
Pillow Cases
Mattress Covers
Gift Cards for Lumber and Building Supplies
Gift Cards for Bedding Needs
"Beyond The Stage" is Broadway Utica's annual campaign that works with a chosen non-profit to promote awareness for their organization and ties into the message of the upcoming show presented by Broadway Theatre League of Utica. To learn more, visit Broadway Theater League of Utica (broadwayutica.org) 315-624-9444
Broadway Theatre League of Utica continues to be a robust organization providing unique educational and cultural experiences in Central New York. Founded in 1957, it produces and promotes a variety of family-oriented, multi-generational, and sophisticated theatrical productions. Broadway Utica exposes the community to high-quality live theatre and the performing arts while also providing opportunities for youth to benefit from these experiences.
Sleep In Heavenly Peace builds on the mission that all children deserve a safe, comfortable place to lay their heads. Founded in Idaho, when assisting a single-family in need, SHP quickly developed into something more as the number of children across the US, that went to sleep without a bed—or even a pillow—to sleep on was brought to life. Today SHP has 280 chapters in three countries filled with volunteers working to prevent children from sleeping from couches, blankets, and even floors, and onto their very own bed.