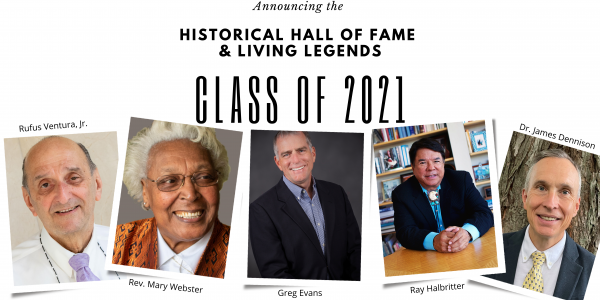 The Oneida County Historical Hall of Fame, begun in 1946, has named five individuals to its 2021 inductee class: writer Jack Behrens, international literacy advocate Welthy Honsinger Fisher, abolitionist Rev. Beriah Green, Congressman Richard Hanna, and Utica's first Black teacher Jermain Wesley Loguen. The Hall of Famers will be inducted alongside the 2021 Richard W. Couper 'Living Legends' class: orthopedic surgeon and Olympic physician Dr. James Dennison, community leader and Indium Corporation CEO Gregory Evans, cultural leader and Oneida Indian Nation Representative Ray Halbritter, beloved community figure and owner of Ventura's Restaurant Rufus Ventura Jr., and community advocate and spiritual advisor Rev. Dr. Mary Webster. Biographies for each inductee attached.
The Oneida County Historical Hall of Fame is named after benefactors David and Carolyn Ellis. David Ellis was a history professor at Hamilton College, past president of the History Center, and author of state and local histories. He was inducted into the Hall of Fame in 2002. The Living Legend Award, started in 2001, is named after benefactor Richard W. Couper. He was a former acting president of Hamilton College, president of the New York Public Library, and a trustee of the History Center.
This year's inductees are being recognized for their service as civic leaders and community advocates, and for their efforts in furthering the region's industries, culture, and educational opportunities. They will be honored during the annual Historical Hall of Fame and Living Legends Awards Celebration to be held at Valentino's Banquet Hall, New Hartford on Wednesday, October 27, 2021 starting at 5:00 pm. Tickets are $50 for current OCHC members and $60 for the general public. Tickets should be purchased in advance and are available on-site at the OCHC, online through the OCHC e-Bookstore, or by calling the OCHC at 315-735-3642. Proceeds from the event will benefit education projects and facility improvements at the History Center. Sponsorship and advertisement opportunities are available. Contact rmclain@oneidacountyhistory.org for more information.
The Oneida County History Center is a private 501(c) (3) not-for-profit educational institution dedicated to preserving the history, heritage, and culture of the Greater Mohawk Valley for present and future generations. Please contact the History Center at 315-735-3642 or visit the OCHC website (www.oneidacountyhistory.org) for additional information.