From spring through fall, you'll find it all!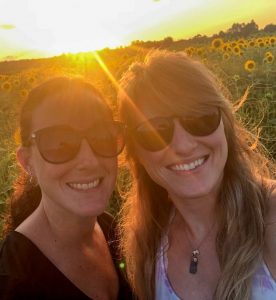 Last summer, we wrote a blog that featured U-pick experiences at different farms in Oneida County. As spring quickly approaches, we thought we'd share a calendar of what you can pick throughout the seasons. Social media has had both a positive and negative impact on these experiences which is why we think it's important to plan your outings ahead of time! We understand wanting to get the perfect Instagram shot (same!) but would like to remind everyone to treat these farms and properties with respect. The farmers and owners always appreciate the business and support, so keep on visiting, picking, and sharing your memories with us! Be sure to tag #ocnewyork when you snap photos of your local adventures.
Editor's Note: For each crop, we will list a month (or months) that we anticipate them to be ready. Please note that weather and climate play a vital role in when they become ready for picking and are always subject to change.
Here is a calendar of what you can expect monthly from May-October. Keep reading to see details and locations of where to pick!
MAY
Tulips
JUNE
Lavender
Strawberries
JULY
Lavender
Blueberries
Sunflowers
AUGUST
Sunflowers
SEPTEMBER
Apples
Pumpkins
OCTOBER
Apples
Pumpkins
U-Pick Tulips
Mid-May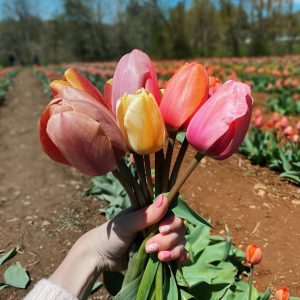 In approximately mid-May, the beautiful tulips begin blooming at North Star Orchards in Westmoreland. There is usually a very brief window to visit (1-2 weekends) where the tulips are in full bloom and ready to take home. Pay attention to their Facebook page as they will update the public on the schedule, weather, etc.!
U-Pick Lavender
June & July
We had the pleasure of visiting Spring Creek Lavender, located in Remsen, last summer to see their gorgeous lavender fields. Spring Creek offers two lavender fields with different colors and varieties and they're open to the public for picking (usually mid-June through mid-July). They provide the tools and visitors can head to fields, pick a bouquet, and snap a selfie. For professional photographers, they also provide their location for a small fee. You must sign up in advance for sessions and can do that here. Don't forget to stop by and see the goats, horses, other farm animals and grab some lavender products at their farm stand!
U-Pick Strawberries
June
Check out Candella's Farm & Greenhouses in Marcy around mid-June for U-pick strawberries! Once the berries are plentiful, Candella's will be open daily for picking. Always check before visiting to be sure the picking schedule hasn't changed.
Other locations for strawberry picking:
Swistak Farm in Verona
Tassleberry Farms in Westmoreland
Savicki's Farm Market in Clinton
U-Pick Blueberries
July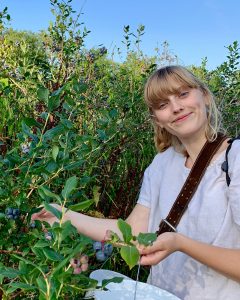 Beginning in early July, blueberries will be available in abundance at locations across the county. Swistak Farm, located in Verona, is a great location for blueberry picking. Swistak has a Farm Stand on site where visitors can purchase a variety of fruits, vegetables, and other goodies. If you want to pick your own, just check in at the farm stand building! Containers are available for purchase. Throughout the summer, be on the look out for other produce for sale like sweet corn, eggplant, summer squash, pickles and more!
Other locations for blueberry picking:
North Star in Westmoreland allows visitors to pick directly behind the market where you'll find acres of mature blueberry bushes. They supply picking buckets and wagons for your family to enjoy!
Candella's Farm & Greenhouses in Marcy offers blueberry picking in July. As a bonus, they also have U-pick raspberries!
Swistak Farm in Verona
Blueberry Hill Farm & Nursery in Clinton
Irvada's Blueberry Lane in Taberg
Heywood's Blueberries in Remsen
Tassleberry Farms in Westmoreland
U-Pick Sunflowers
July & August
Wagner Farms, located in Rome, is the sunflower mecca of Oneida County! Ron strategically plants several fields each year and staggers their plantings so that they bloom over a longer period of time. Visitors can plan to visit usually around the end of July into August. We recommend following their Facebook page for information on sunflowers, U-pick opportunities, events, wagon rides & more.
We are also thrilled to be bringing back our Sunflower Selfie campaign that we launched in 2020. This time, we want visitors to snap a selfie to show support of Ukraine when visiting Wagner Farms. Sunflowers are Ukraine's national flower!
U-Pick Apples
September & October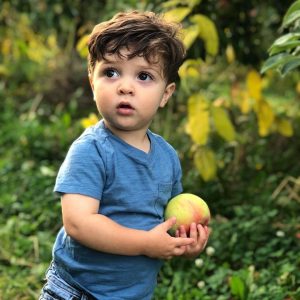 Windy Hill Orchard & Farm Market, located in Cassville, offers U-pick apples for visitors. Varieties include Macs, Cortlands, Empires, Macouns, Honeycrisps and more! There are usually fresh baked items for sale, apple cider slushies and beautiful views.
North Star Orchards offers U-pick apples throughout the fall, typically beginning in mid-September. They grow a variety of apples including Gala, Empire, Macoun, McIntosh & more.
U-Pick Pumpkins
September & October
There are so many great locations to pick pumpkins during the fall! And many of these spots have stores on site, corn mazes, and hold family-friendly events. Check out:
Pumpkin Junction in Sauquoit
Will's Cackleberry Castle Pumpkin Farm in Camden
Savicki's Farm Market in Clinton
Teel Farms in Barneveld
North Star Orchards in Westmoreland