The Utica Children's Museum is closed as they prepare to move and create a new, state-of-the-art museum experience at the Parkway in Utica, but they are still offering unique programming for our region's children during Spring Break next week from April 5-10. All offerings are free and pre-registration is required. Programs will be presented via Zoom daily starting at 11:00am and will last approximately one hour each. Registration is available at www.uticacm.org
The week is brought to the community with support from Bank of Utica.
Monday, April 5: The Zoo on Zoom!
We are joining forces with the Utica Zoo to kick off our Spring Break week activities! Get an up close and personal look at four mammals as Education Program Coordinator Kathleen McGill shares some interesting facts and information about them. We will take questions from the audience as we get to make some new animal friends together!
Tuesday, April 6: Goat Yoga sponsored by MVP Health Care
Spring Creek Lavender & Flower Farm will hold Zoom yoga to practice stretching and breathing AND introduce participants to their seven Nigerian Dwarf goats.
Wednesday, April 7: Weather Wednesday in partnership with WUTR
Eyewitness New Chief Meteorologist Colleen Hurley joins us to talk about weather basics, to do a demonstration and do a weekly forecast activity with everyone at home!
Thursday, April 8: Introduction to Sign Language sponsored by Colonial Voluntary Benefits
Have you always wanted to learn to sign the alphabet, your name, colors, hello and goodbye?
Interpreter Gloria Broadbent joins us to teach kids signing basics!
Friday, April 9: Flower Friday in partnership with Munson-Williams-Proctor Arts Institute
See and learn about different pieces of art from MWPAI featuring flowers in various styles, enjoy an art lesson from Jennifer Lorenz Badua and then draw flowers of your own and we'll make a virtual garden!
Saturday, April 10: Science Saturday with MVCC's Future Engineers Club
Join us for engaging and fun demonstrations in a broad range of subjects like Physics, Chemistry, Life Sciences, and Engineering. At the end we will test your knowledge through a Kahoot quiz.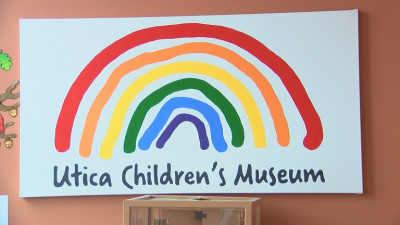 About Utica Children's Museum
The Utica Children's Museum will be relocating to the Parkway District of Utica on the corner of Holland
Avenue and Memorial Parkway and will be creating an entirely new experience for families in the Mohawk Valley. The new museum is part of a larger project of ICAN – the development of a first-of-its-kind Family
Resource Center that will house ICAN family-based programs, space open to the community AND the
Museum. Leadership and staff from ICAN and the Children's Museum are in the midst of readying the
building and the planning of exhibit experiences and space with their partners.
With over 50 years of history, the Utica Children's Museum is one of the oldest children's museums in the country.
About ICAN
Integrated Community Alternatives Network, or ICAN, a not-for-profit organization, is a unique home and community-based network that provides individualized and non-traditional services and care to the highest risk youth, families and adults, with social, emotional, mental health and behavioral challenges. We have been a mainstay in the Central New York community for over 20 years. Our vision is in keeping families together, and our mission is empowering individuals and families.