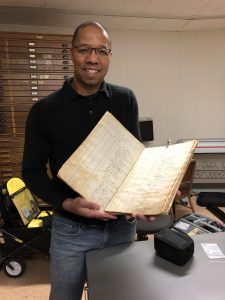 In honor of Black History Month, the Oneida County History Center will host a screening of the film Searching for Timbuctoo with writer and director Paul Miller. The film tells the little-known story of a Black settlement established in the wilds of upstate New York that brought together a group of ardent abolitionists willing to risk their fortunes, families, and futures to destroy slavery. This feature-length documentary reveals the hidden history of this long-lost community and the search for the elusive Timbuctoo settlement. A Q&A session with Paul A. Miller will follow the film.
In 1846, in an effort to level a blow against racism, Gerrit Smith, a wealthy New York landowner and well-known abolitionist leader, gave away 120,000 acres of wild land to nearly 3000 African-American men so that they could have the right to vote in New York state. His 'scheme of justice and benevolence' helped establish a Black settlement that brought together a diverse group of black and white abolitionists –including a struggling sheep farmer named John Brown — committed to ending slavery. What Smith could not know is that his plan would also lead one man to the brink of insanity, send another to the gallows, and help hurtle the nation towards a catastrophic civil war. Searching For Timbuctoo reveals the hidden history of this and follows an archaeology team trying to unearth the settlement.
Don't miss this exclusive screening Saturday, February 11, at 2:00 PM at the Oneida County History Center located at 1608 Genesee Street, Utica, NY.
The Oneida County History Center is a private 501(c) (3) not-for-profit educational institution dedicated to preserving the history, heritage, and culture of the Greater Mohawk Valley for present and future generations. Admission to this program is free for the general public; donations are encouraged. Please contact the History Center at 315-735-3642 or visit the OCHC website (www.oneidacountyhistory.org) for additional information.