March 19-20 & March 26-27, 2022
When March hits, what do you think of first? St. Patrick's Day? College basketball? What about maple syrup? March is Maple Syrup Month… or as some put it, Maple Madness. There are celebrations and events across New York State throughout March. Right here in Oneida County, our local producers celebrate with all types of activities, tours and educational opportunities. The dates for 2022 are March 19-20 & March 26-27.
So why is maple such a big deal in New York? According to www.nysmaple.com, NYS is "home to the largest resource of tappable maple tress within the US and over 2,000 maple sugarmakers. As an abundant and sustainable crop, New York's gourmet maple industry is vibrant and [growing]. Our state's unique climate and forestry make it naturally perfect for maple syrup production. This pure, additive-free sweetener is made simply by removing water from the sap to concentrate natural sugars and nutrients made by the tree."
In our county, we have three locations where you can enjoy maple (and products): Tibbitts Maple, Shaw's Maple Products and Vernon Verona Sherrill (VVS) High School.
March 19-20 & March 26-27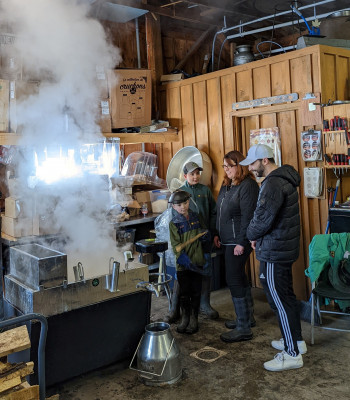 Tibbitts Maple (New Hartford, NY) – Tibbitts Maple has been making quality, pure maple products for five generations. Although the current facility has been in use since 1984, their tradition began with the first generation, Friend Tibbitts, making maple syrup on the Tibbitts homestead in New Hartford. By the way, when we say 5th generation, we mean that their two boys who are ages 7 and 12 also have a hand in the family business. Not only do they run their own farmstand, but they also make their own syrup! It's amazing to see young kids so into the family business.
Tibbitts is hosting Maple Weekend Open House during the designated dates from 10AM-4PM daily and their family invites you to "tap into tradition". Guests can join in the experience of making pure maple syrup and see the process from their trees to your table! They'll be offering tours of their facility so you can get outside and enjoy the pure maple experience, learn how maple syrup is made and sample pure maple products! Tibbitts will also have featured products to sample and buy such as maple lemonade, maple milk and of course pure maple products. For more information, email tibbittsmaple@gmail.com or visit their website at http://www.tibbittsmaple.com.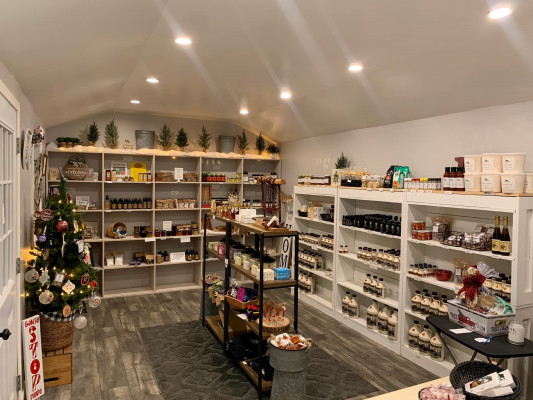 Shaw's Maple Products (Clinton, NY) – Shaw's Maple Products was established in 2007 after their family visited a local high school during Maple Weekend. They wanted to teach their children that you can create a natural and unrefined sweetener that comes from maple trees located right on their property! What started out with a few taps and boiling over an open fire in 2007 has turned into something much larger. Additionally, their family had some time to renovate when COVID hit and in February 2021, they officially opened their doors with a new expanded retail space! They also sell products of some other exceptional local businesses.
This year, they will be open for four days (Saturday and Sunday each weekend) from 10AM-4PM for tours of the sugarhouse and kitchen. Their new retail store will be open as well. Families can watch them boil the fresh sap over a wood fired evaporator and taste the warm maple syrup. Education and fun for all! Shop the retail store and enjoy delicious samples. Some other unique products you can expect to find include maple sugar pieces, maple cream, maple drops, maple popcorn, maple seasoning and more! https://www.shawsmapleproducts.com/
March 26-27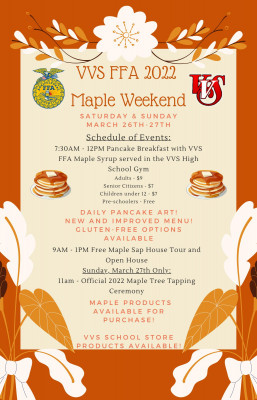 VVS High School (Verona, NY) – VVS has a phenomenal Future Farmers of America (FFA) program and this FFA chapter is hosting Maple Weekend & a Pancake Breakfast Saturday & Sunday 3/26-27. The pancake breakfast is delicious and will take place both mornings from 7:30AM-12PM. The cost is $9 for adults, $7 for seniors, $7 children under 12 & free for preschoolers. This year, there will be daily pancake art, a new and improved menu, and gluten-free options available.
March 20 & 27
The Root Farm (Sauquoit, NY) – It's sap season! Back by popular demand, The Root Farm is hosting maple syrup workshops. They're open to all ages and are a great activity to do with your family. Learn the steps; from tapping trees to the filtering process to creating a delicious breakfast! Dates and times are Sunday, 3/20 & Sunday, 3/27 with two sessions each day: 10AM-12PM or 1-3PM. Space is limited for each session so register early! Call/text (315) 731-0985 or message them on Facebook.
Additionally, there will be free maple sap house tours and an open house from 9AM-1PM each day. On Sunday, 3/27, there is the Official 2022 Maple Tree Tapping Ceremony at 11AM. Plus, guests can buy maple products!
Pro tip from experience: It's better to go earlier than wait until the end of the morning for breakfast because they can run out of food!
We are lucky to live in a state and region where agriculture plays such a vital role to who we are. It's truly amazing that we have events and opportunities like Maple Weekends where we can learn about the process and buy high-quality products. If you're looking for something fun to do or want to teach the kids something new, go take advantage of any or all of these events!