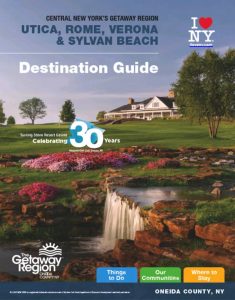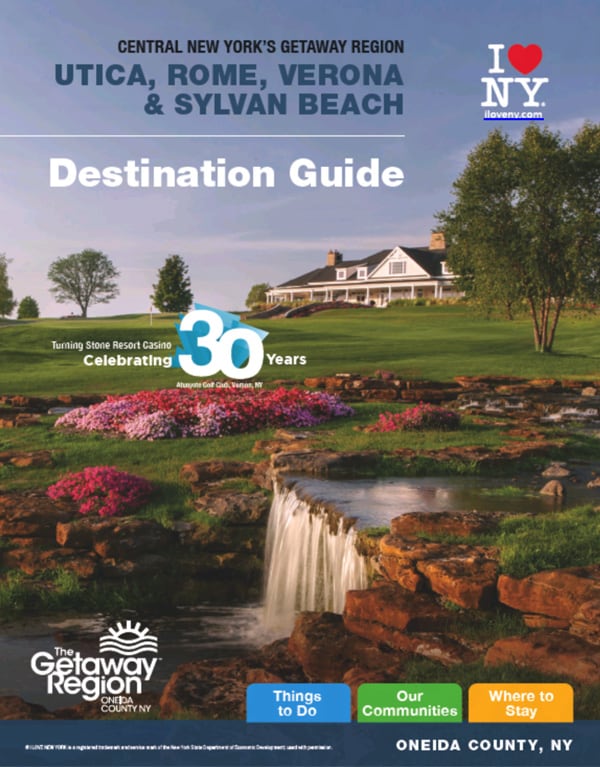 April 18, 2023 (Utica, NY) – Oneida County Tourism (OCT) is excited to announce the launch of its brand-new destination guide for 2023. This year's cover features Turning Stone Resort Casino's Atunyote Golf Course, honoring Turning Stone's 30-year anniversary. The guide offers a comprehensive look at all the best destinations and experiences that Oneida County has to offer for tourists and locals. For the second year, OCT has partnered with Sentinel Media in Rome, who designed and produced the destination guide.
This destination guide is the ultimate resource for anyone looking to explore the beauty of Oneida County. Packed with stunning photos, detailed maps, tips, itineraries, and hotels, it provides a complete overview of the region's top attractions; from historic sites and museums to outdoor adventures and family-friendly activities.
"Our new destination guide is a great way for visitors to discover all the wonderful things that Oneida County has to offer," said Kelly Blazosky, President of Oneida County Tourism. "Whether you're a first-time visitor or a seasoned traveler, it will help you make the most of your trip to our beautiful county. We are also so grateful with our partnership with Sentinel Media, and love working with a local company to produce the guide."
The guide is organized in easy-to-read sections, making it simple for travelers to plan their itinerary. It also highlights the local beverage and cheese trails, ideal for foodies and drink lovers. Additionally, there is a new section dedicated to the A-to-Z Food Tour, showcasing local dishes for each letter of the alphabet.
The 2023 Oneida County Destination Guide is available in both print and digital formats. Visitors can pick up a copy at the OCT office located at Exit 31 in Utica, request to have a guide mailed, or access the interactive, digital version on the OCT website at https://www.oneidacountytourism.com/request-destination-guide/.
###