For nearly a century, The Stanley Theatre has brought the community together with live concerts, Broadway shows, musicals, ballets, movies, and more. Originally built as a movie theatre, The Stanley opened its doors in 1928 with 2,963 seats, a grand entry staircase that resembles the main staircase of the Titanic, a gold leaf interior and terra cotta and tiled mosaic exterior. The Stanley Theatre was designed by renowned architect Thomas Lamb.
We recently had the opportunity to tour the Stanley while filming for an upcoming holiday video series and it was another great reminder of the beauty of this theater. Talking with some of the Stanley employees, they said they love to see first-time visitors react when they enter for the first time. The architecture is truly jaw-dropping!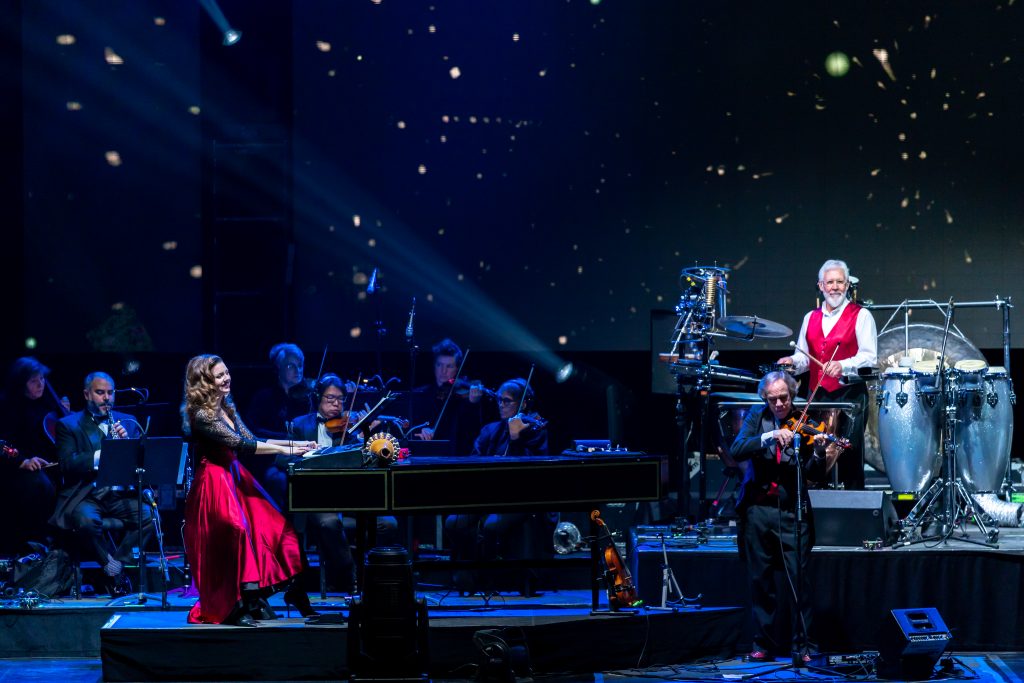 We've covered Alton Brown, but another show we're super excited for is Mannheim Steamroller, happening Wednesday, December 7 at 7:30 PM! Our pro tip: get your tickets here to Mannheim Steamroller and make a night out of it! Grab your family and friends and visit a local restaurant near the Stanley for dinner before the show. Dress up and take in the holiday magic of the theater, enjoy the show and sip on a variety of drinks. After, head to another spot in downtown Utica for post-show drinks. We are so lucky to have a beautiful theater with top-notch entertainment and we love taking advantage of it!
Mannheim Steamroller just might be America's favorite holiday tradition. Chip Davis, founder and creator of Mannheim Steamroller, will celebrate over 35 years of his annual Christmas concert tour, making it the longest running concert tour in the entertainment industry! This year's show, presented by NAC Entertainment, will feature classic Christmas hits from the Mannheim Steamroller holiday albums along with dazzling multimedia effects in an intimate setting. Experience the magic as the spirit of the season comes alive with the signature sound of Mannheim Steamroller! Tickets start at $37.50 and can be purchased through Ticketmaster or by calling The Stanley Theatre Box Office at 315-724-4000.
"I remember when I came out with my first Christmas album in 1984 followed by our first tour," Davis said. "Back then, many in the music industry said focusing on Christmas just wouldn't work. Now, over 35 years later, we are still going strong. I want to thank our fans for making us part of their holiday tradition, especially after the hardships of the last few years. Today we often see multi-generational families join us during the holidays each year."
A Grammy Award winner, Mannheim Steamroller has sold more than 41 million albums, with over 31.5 million in the Christmas genre. Their holiday CD's have become synonymous with Christmas and occupy top positions on Billboard's Seasonal Chart every year.
Their first Christmas album, released in 1984, revolutionized the making and marketing of holiday music; the album's success made Christmas records a "must do" for all music artists.  Davis is the #1-selling Christmas artist of all time, with Elvis coming in at a distant 17 million holiday records sold.  Having 19 gold, eight multi-platinum and four platinum-certified records, Davis is among an elite group of music artists with this number of RIAA records. He is also one of the most successful entrepreneurs in the music industry, offering a rich array of lifestyle products on www.mannheimsteamroller.com including hot chocolate, food, apparel, and novelty items.  His latest achievement is creating a cutting-edge psychoacoustic technology that is being used in major medical institutions such as Mayo Clinic.