The Kirkland Art Center is hosting an in-person and virtual exhibition of two artists whose vibrant works in different media evoke organic forms and our relationships with them. "Vital Gestures" features sculpture by Rebecca Murtaugh and quilts by Julie Waldas.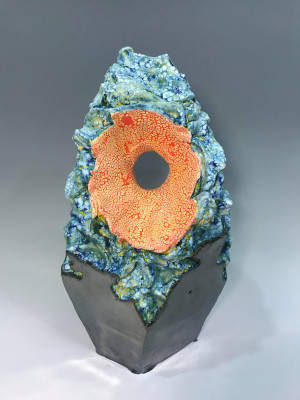 Murtaugh's glazed and under-glazed ceramic pieces reflect her interest "in alchemy, the history of objects, and in the relationship between nature and the human-made," while the large, hand-sewn quilts of Waldas invite the viewer to explore her imaginative ecosystems of color. The rich and flamboyant pieces by the two artists complement each other well and together provide an interesting and lively experience for the viewer.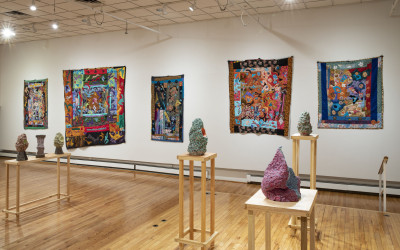 Rebecca Murtaugh earned a Master of Fine Arts from Virginia Commonwealth University, a Bachelor of Science from Pennsylvania State University, and attended Maryland Institute College of Art. Her work has been exhibited in solo and group exhibitions in venues such as Pentimenti Gallery, The High Line, Trestle Gallery, Tiger Strikes Asteroid, Underdonk, Frist Center for Visual Art, Everson Museum, Delaware Contemporary, Urban Institute of Contemporary Arts, 1708 Gallery, and the American Museum of Ceramic Art. Murtaugh's work has been included in The New York Times, The New Yorker, Huffington Post, American Craft, The New Criterion, BUST, and Bushwick Daily. She splits her time between Queens and Clinton, New York where she is the John and Anne Fischer Professor of Fine Art at Hamilton College.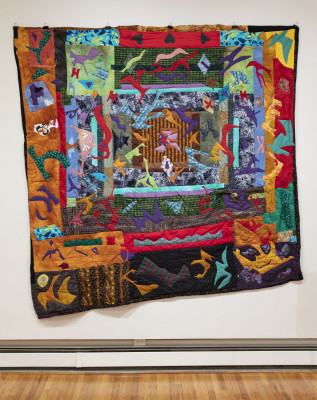 Eloise (Julie) Waldas is retired and lives on an 80-acre farm in Westmoreland with her husband, Howard. She attended Agnes Scott College in Decatur, Georgia, and received a degree in Art History from the University of North Carolina in Chapel Hill, NC. She furthered her education at the University of Georgia in Art Education and earned a Masters degree from SUNY, Cortland. She taught art at The New School of Utica and from 1986 she was an art teacher at Holland Patent Central School where she became Chair of the Art Department. In addition to her teaching, she has instructed yoga, belly dance, and modern dance; she is a World Chorus participant and a member of the UU Church Choir of Utica; and has been a teaching artist for Arts and Ed of Lincoln, NY. She has shown her quilts at the Earlville Opera House, View Art Center in Old Forge, and the UU Church of Utica.
Online viewing of the exhibition is available from March 20 at www.kacny.org/gallery and in-person viewing (with masks, social distancing, limited capacity) at the Kirkland Art Center Gallery on East Park Row in Clinton is available every Saturday from 1 pm – 4 pm. The exhibition is free, open to the public, and wheelchair accessible. It runs through April 25, 2021.
Kirkland Art Center, 9 ½ East Park Row, Clinton, NY 13323. 315-8538871. www.kacny.org