On Friday, October 13th Utica Comets Hockey is alllll the way back. Wear your black, bring the noise, and be here to kick off our 11th Season against the Syracuse Crunch.
Opening Night tickets are still available!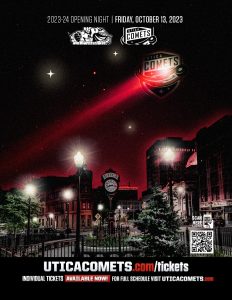 Can't wait?? You don't have to. On Friday the 6th, the preseason kicks off with a plaza party! Starting at 5pm, enjoy all these activities with the kids!
-Face painting
-Bounce obstacle course
-Zoomobile presented by the Utica Zoo
-Kids Club Swag Bag Pick Up sponsored by KidsTeethOnly
-Street hockey
-Mobile Museum presented by the Utica Children's Museum
-Sign making
-Hot rod Zamboni