'Tis the season to get in the holiday spirit, and despite a ROUGH year on all accounts, our area is pushing through to make this time of year a little brighter for everyone. We've put together a roundup of events… some are ongoing into 2021 and others are one-day events. As always, we encourage everyone to be safe, maintain space and wear a mask. Similar to our Shopping Guide blog, our businesses appreciate our patronage more than ever. We also can't stress enough that if you don't feel safe going out in public, we get it! Fortunately, there's a mix of events in this list that allow you to enjoy the holidays from the safety of your home!
Ongoing Events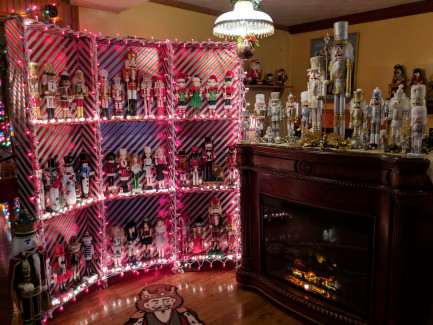 Nutcracker Display at Tiny's Grill (Utica)- Tiny's is celebrating 30 years in business and we were so excited to hear that they're still doing the infamous nutcracker display this year. There are over 700 (!!!) on show in the restaurant and it's free to visit. We encourage everyone to grab food and a drink while you're there to show some support! This event is kid friendly and the nutcrackers will be on display into 2021. They are open Weds-Sat from 4-10/11pm.
Gingerbread Village at Turning Stone (Verona) – Turning Stone is back with the 2020 Christmas Gingerbread Village again, located in the Exit 33 atrium of the casino. Each year, pastry chefs design a village that has been recognized the last several years by Forbes Travel Guide as one of the best gingerbread villages in the country. This year, Gingerbread Village measures more than 70 ft. in length, includes nine towering buildings (train station, barn, hotel, etc.) and more. All edible, it's made of more than 700 lbs. of gingerbread dough, 2,045 lbs. of icing & more than 750 lbs. of candy. This event is family-friendly and free to visit!
Victorian Yuletide at Fountain Elms (Utica) – Fountain Elms, located on the campus of Munson Williams Proctor Arts Institute is on display now through January 3. The theme this year is commemorating the tradition of the Christmas tree. During this time, Fountain Elms is dazzling with festive décor. Several rooms contain different trees & there are other beautiful holiday touches that will get you in the spirit! Visit their page to learn more about the history & plan your visit. This event is free and open to anyone.
Live Reindeer & Holiday Display (Boonville) – Dasher & Dancer, two REAL reindeer, have arrived in Boonville! Visitors can see them in the Village Square (between Post St. and Main St.) through Christmas Eve. The town decorates the gazebo with festive décor and lights & plays holiday music so families can visit and enjoy looking at the reindeer! Please note that due to COVID, Santa will not be in his cottage this year.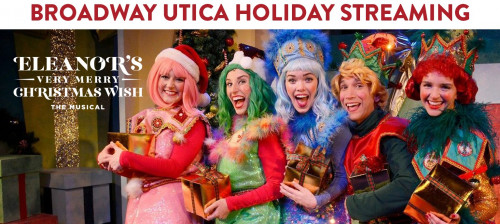 Eleanor's Very Merry Christmas Wish The Musical – Streaming with Broadway Utica (Virtual) – This musical tells the story of a rag doll named Eleanor who lives in the magical world of the North Pole. Families can purchase this holiday classic here & a unique household viewing access code will be emailed to you. The ticket grants you 48-hour access to watch from now through 12/27. We love this option as a way to stay cozy at home and enjoy time with the family!
In-Person Events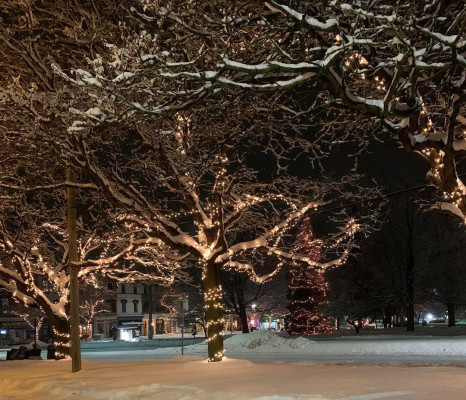 Clinton's Late-Night Fridays (Clinton) – We're loving this idea of businesses in Clinton and the Chamber encouraging more local shopping! Check this out either today (12/11) or 12/18 and visit your favorite local shops after hours. Plus, there are in-store giveaways, raffles, Chamber gift cards and more! And if you need more of an idea of what kind of shops there are, check our last Shopping Guide blog!
Jingle Bells at Broadway Utica Window Display (Utica) – Saturday, 12/12, families will have the opportunity to get a sneak peek into Santa and Mrs. Claus's downtown Utica workshop! Broadway Utica has transformed their office into the North Pole and inviting you to witness from the sidewalk. Watch Santa finish preparing toys, bring your letters to Santa and enjoy caroling from the youth ambassadors. This event is free!
Holiday Market at the Greenhouse with R. Jones Nursery & Butternut Farms Café (Rome) – Saturday, 12/12, get some holiday shopping done at the holiday market! There will be a variety of unique vendors selling products like wine, crafts, decorations, food, art & more to help you stock up for your holiday shopping!
Oneida County Public Market (Utica) – Saturday, 12/12,19 & 26, stop by the Oneida County holiday markets in Union Station to visit with local vendors. This is a great place to buy local produce & also find some holiday gifts! Companies like City offer Utica merch and a Homebrewed for the Holidays gift box with tons of local items!
The Walters' Half Acre Homestead Hootenanny! (Rome) – Saturday, 12/12, there will be a celebration of the holiday season where visitors can buy wreaths, garland and other décor. There will be baked goods, a fire to keep warm and hot cider. The event kicks off at noon and closes at dark. COVID & physical distancing guidelines are in place!
Drive-Thru Santa with Stuff the Bus (Utica) – Tuesday, 12/15, come drive through and see Santa with the family at Canal Park in Utica. This is the last chance to bring a new, unwrapped toy to help Stuff the Bus. We love this as a great way to give back during the holiday season if you can!
Ice Menorah Lighting – Chanukah Celebration (Clinton) – Now through 12/14, Chabad of Clinton is hosting a Chanukah celebration as they light the ice menorah on the Village Green in Clinton. You must RSVP to receive prize & food prepacked! Limited room due to COVID, masks must be worn.
Virtual Events
Santa Claus Live Event with Runnings Stores (Virtual) – Tuesday, 12/15, Santa Claus will appear live on Runnings Facebook page starting at 6:30pm! Santa will answer questions and give away prizes. You might even be able to see Santa's reindeer. This event is free so tune in with the little ones!
Danny Holmes Rose & Thorne Virtual Concert with Unity Hall (Virtual) – Saturday, 12/19, tune in for one of our area's favorite sons. Danny and Rich will perform for the Unity Hall series for @ 35 minutes and there is no admission charge!
A Readers Version of The Christmas Carol by Charles Dickens with Rome Art and Community Center (Virtual) – Thursday, 12/17, The RACC will broadcast a virtual performance of the readers version of the Christmas Carol. This was based on Dickens' final abridged version of 1868. It will broadcast on the 17th and remain on their Facebook page through the end of the year. The performance is being given to benefit the RACC to raise funds for 2021 programming so donations are accepted and appreciated!
Cookies for Santa with Broadway Utica and Wisk Baking Co. (Virtual) – Tuesday, 12/22, join Wisk Baking Co. and Broadway Utica to prepare for Santa's big arrival by decorating his favorite treats with a cookie kit. Tickets are $40 per household & includes cookies, frosting, sprinkles and hot cocoa. Plus, the kids will be able to see Santa and Mrs. Claus virtually!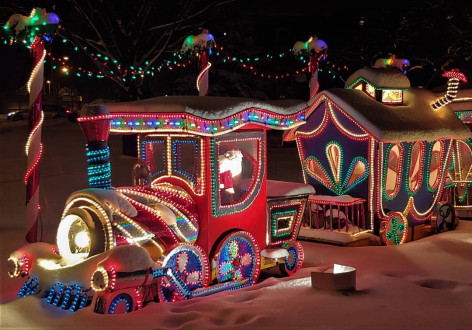 Trinkaus Manor Memories: Virtual Presentation with Oneida County History Center (Virtual) – Wednesday, 12/23, tune in to learn about Trinkaus Manor, a holiday celebration for many in and around Oneida County for almost 40 years. The annual display featured over 750,000 lights. Join Oneida County Historian, Joe Bottini, to rediscover this festive part of our local history. It will include photos of the Trinkaus decorations, photos and quotes of the fire that destroyed it all and more history of the family. Admission is $5 for non-members and free for History Center members.