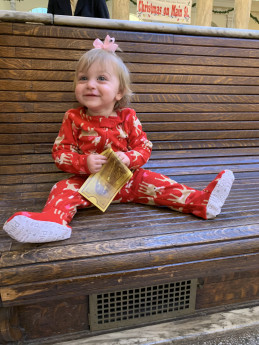 Available dates as of 11/12/21 include:
November 19, 20, 21, 28,
December 2, 3, 5, 9, 10, 12, 16, 19, 20
Live the magic of the classic Polar Express™ Train Ride story with the Adirondack Railroad. Depart from Utica's Union Station and travel north while being served hot chocolate and cookies. When you arrive at the North Pole, Santa will board the train visiting with each family, and giving each child their first gift of Christmas in the form of a Silver Bell, just like in the book or movie! Children (and parents) are encouraged to come in pajamas.
Make reservations early as this event sells out every year!
Holiday House 2021: Together with Family and Friends
at Rome Art & Community Center
Friday, November 19 (5 PM – 9 PM)
Saturday & Sunday, November 20-21 (11 AM – 5 PM)
The 33rd annual Holiday House, the largest fundraiser of the Rome Art and Community Center, is back. The Holiday House features the best of local artisan, craft, and food vendors. Shop in a festive and elegant atmosphere for clothing, jewelry, glassware, ornaments, and other unique gifts.
Admission is $5. With each admission, you'll be entered into a raffle for a catered dinner for eight provided by Patrick O'Connor of Feast and Festivities in your home or at the RACC!
CNY Small Business Pop-Up
Saturday, November 20 & Sunday, November 21 (10 AM – 5 PM)
Join at the old Christopher & Banks (Orchard Plaza) across from Kohl's for a pop-up shop highlighting locally curated goods. Creators will be selling homemade products like candles, trendy apparel, soap, furniture, artisan cutting boards and more. Get a head start on your holiday shopping!
R. Jones Nursery Holiday Markets
at R. Jones Nursery & Landscape Center
Every Saturday from November 20-December 11
Join for the fourth year of Holiday Markets celebrating our local small businesses and vendors! You'll be able to shop for holiday gifts and decor that is handcrafted and locally made! Stop into the cafe for holiday coffee, breakfast, lunch, baked goods, and desserts! Pick up your poinsettias, Christmas trees, and wreaths while you're here! There will be different vendors each day with all your favorite products!
Gingerbread Village at Turning Stone
November 22-December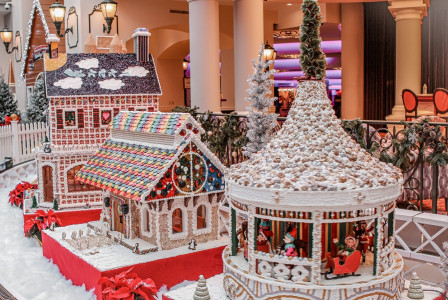 Turning Stone's holiday favorite, The Gingerbread Village, is set to open on Monday, November 22. We are waiting on confirmation of the ending date. The annual village, which has been recognized the last several years by Forbes Travel Guide as one of the best gingerbread villages in the country, will be set up at the casino. It takes 30 employees and over 2,200 hours to make the impressive village each year that consists of more than 700 pounds of gingerbread dough, 2,045 pounds of icing, and over 750 pounds of candy. It is free to visit. Stay tuned for announcements on dates & location within the casino!
2021 Rome Christmas Tree Lighting
Wednesday, November 24
You Can help Santa & Mrs. Claus light Rome's Christmas tree at the Veteran's/Gansevoort parks on Court and James Street. The evening's activities start at 5:30 PM with the Trinkaus Village display, food, fireworks, live music with Scott Rutledge and the Greater CNY Christmas Choir. Come visit, make some wishes and take a picture with Santa inside the Rome Historical Society.
Victorian Yuletide at MWPAI
November 26-December 31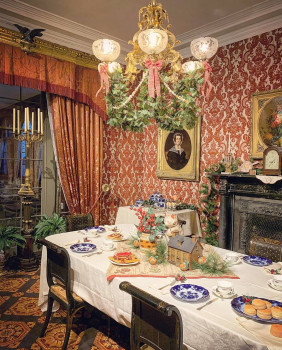 Celebrate the holiday season with the annual Victorian Yuletide exhibition at Fountain Elms. Each year, this exhibition brings a new theme to this historic building. Fountain Elms becomes resplendent with festive décor. Be sure to see all holiday touches and traditions based on how this home used to be decorated by the family who lived here. This event is free to visit. We will update as we get more information confirming this year's theme.
Calabria Coffee Small Business Saturday & Pop-Up Events
Saturday, November 27 & Sunday, November 28
Sunday, December 5 & Sunday, December 12
Shop Small on Small Business Saturday! Different businesses in New Hartford will have special giveaways or discounts when you show your New Hartford Buy Local Reusable Bag. The day culminates with a Tree Lighting Ceremony at the Village Green at 6:30. On 11/28, stop by for an event featuring Evolve Gifts, a company who offers sustainable, eco-friendly alternatives. There will be a Picnique315 Pop-Up on 12/5 & a Coffee & Cookies with Santa event on 12/12.
Bright Nights at the Utica Zoo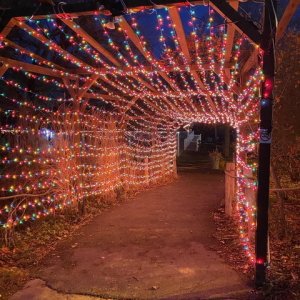 Every Friday, Saturday & Sunday
from November 26-December 19 5-7 PM
Bright Nights is the Utica Zoo's premiere holiday event featuring numerous, festive light displays and holiday fun. Visitors will enjoy caroling, crafts, food truck vendors, warm drinks, fireside warming stations, and of course Santa! There will be a nightly reading of 'Twas the Night Before Christmas and a series of stationary and "moving" holiday light displays (such as Gumdrop Candy Land Cottage, Farming Elves & more!). Please keep in mind this event will not feature many animals due to time of day and colder weather. Stop by the Zoo during normal hours to see the animals!
Bright Nights is included with admission, members receive 50% off admission cost. Adults $8, kids 2-12 $5, & $6.75 for seniors, military & college with ID.
Clinton Shoppers' Stroll & Holiday Parade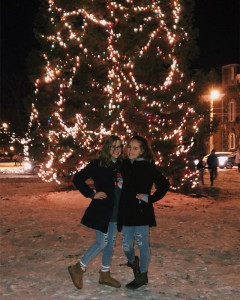 Friday, November 26 & Saturday, November 27
Events kick off on Friday with the Shoppers' Stroll & Holiday Parade. The weekend is filled with events for all ages, including Pack the Pantry donations, horse and wagon rides, Clinton High School Chamber Singers throughout the village, music, book readings, the annual tree lighting, and the holiday parade at 7 PM (Friday). On Saturday, the day kicks off with the Clinton 5k Jingle Jog followed by horse and wagon rides, a firepit with s'mores and hot chocolate, and a concert in the evening. Plus, all the shops in Clinton will be open throughout the weekend! Explore the diverse selection of stores and get a head start on your holiday shopping while supporting local businesses! For a full list of events, click the links for each day.
2021 Christmas & Crafts at Turning Stone
Friday, November 26 (6 PM – 9 PM)
Saturday, November 27 (10 AM – 6 PM)
Sunday, November 28 (10 AM – 4 PM)
At the Christmas & Crafts show, you can shop from a selection of home accessories, designer fashions, New York State wineries, artisan jewelry, gourmet specialty foods and one-of-a-kind handcrafted holiday décor, glass, wood, ceramics, photography, candles, soaps and much more. There is a complimentary kid's craft table and visit with Santa on Saturday and Sunday!
Admission is $6 for adults, $4 for military & seniors, $2 for children 6-12
Tiny's Nutcracker Display
November 26-January 2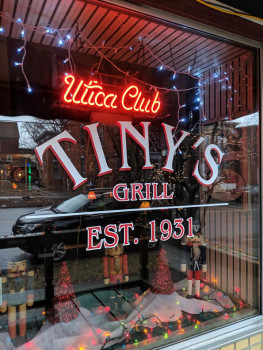 The owner of Tiny's Grill, Joanne Gerace, has a private collection of over 600 nutcrackers. Each holiday season, Joanne puts out the collection of nutcrackers for the public to view. It is family-friendly and free to visit. We encourage those who visit to grab a drink or a bite to eat while taking in the annual festive display!
Christmas at Canal Park
Saturday, November 27 beginning at 4 PM
Kick off the holiday season with a night filled with fun, food, music, a tree lighting and more. All are welcome to join! The event includes pictures with Santa, free horse drawn sleigh rides, tree lighting ceremony at 5 PM, grilling with the Grinch, character meets with Elsa, Olaf and more, performers from The Nutcracker & Santa's elves, letters to Santa & more. Plus, enjoy a hot cocoa or cider slushie and other sweet treats. You can also do some holiday shopping with local vendors.
Admission is $5 per car & all proceeds will be donated to Stuff the Bus Toy Drive!
Pentatonix: The Evergreen Christmas Tour 2021
at Turning Stone Resort Casino
Sunday, December 5
Tickets on sale now! The famous American a cappella group of five vocalists are heading to Turning Stone. Characterized by their pop-style arrangements with vocal harmonies, basslines, riffing, percussion, and beatboxing, they produce cover versions of modern pop works and Christmas songs, sometimes in the form of medleys, along with original material.
2021 Arthritis Foundation Jingle Bell Run
at Mohawk Valley Community College
The 2021 event will be live and in person! Strut your stuff in your favorite holiday costume and feel good about doing good! Together, we'll jingle all the way to a cure. Bring a team of friends, family and co-workers to run or walk. This is a great way to get into the holiday spirit while working to conquer arthritis for good.
The Nutcracker at the Stanley Theatre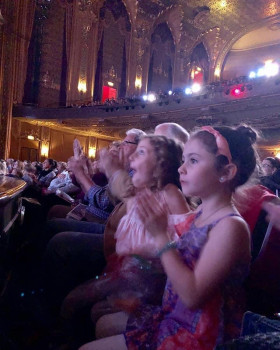 Friday, December 10
Saturday, December 11
Sunday, December 12
The Nutcracker will be returning to the theatre for three separate performances. Presented by Mohawk Valley Ballet (MVPA), these performances shed light on the amazing dedication that is put into the show by the cast, as well as telling the tale of the infamous ballet production.
An Evening with Chevy Chase
Monday, December 13
The great Chevy Chase will be visiting The Stanley Theatre stage! The night starts with a screening of the 1989 holiday classic "National Lampoon's Christmas Vacation," which stars Chase as Clark Griswold. Following the film, Chase will host a Q+A session where he will discuss his expansive career, the making of the movie, and other fascinating tales about his life.
Boonville 2021 Cookie Festival
at Awesome Country's Occasions Barn
Friday, December 17 (10 AM – 4 PM)
Saturday, December 18 (10 AM – 4 PM)
Sunday, December 19 (10 AM – 4 PM)
Browse over 5,000 baked goods and bring your appetite! You don't pay to enter but when you find your baked goods, it's a pay by weight system. Several licensed bakers they employ will be making these delicious sweets.
It's A Wonderful Life
Rome Capitol Theatre presented by Broadway Utica
Friday, December 17 & Saturday, December 18
Frank Capra's 'It's a Wonderful Life' returns to the Capitol Theatre for its annual presentation, this time for the first time in the restored Capitol, looking very much as it did when this movie was first shown at the theatre in 1947. Join us for this perennial holiday favorite about a man who has a chance to see what life in his small upstate New York town would have been like if he had never been born.
Bank of Utica New Year's Eve!
Friday, December 31 (7 PM – 12:30 AM)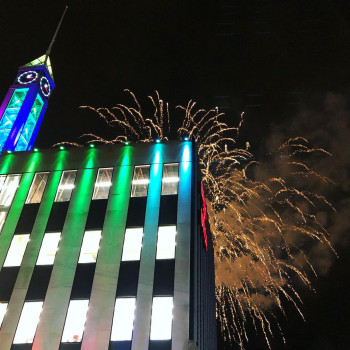 Celebrate Utica with Bank of Utica, the City of Utica and its Public Safety Departments. The event will feature live bands, a magic show, a range of intermission acts, ice carving competitions, and horse and carriage rides. Attendees will also be able to enjoy Saranac beverages as well as visit local bars and restaurants with special food and drink specials. As midnight approaches, the Bank of Utica Tower will count down to 2022, followed by a dazzling fireworks display!