Hamilton College's Wellin Museum of Art presents "Yashua Klos: OUR LABOUR," opening on Saturday, Feb. 12, from 2 to 5 p.m. The exhibition and opening are free, and visitors who are vaccinated, boosted, and masked are welcome. The exhibition is curated by Wellin Museum Director Tracy L. Adler and will be on view through June 12.
Klos, a Brooklyn-based artist, explores the intersections among the human form, natural elements, and social hierarchies. His practice employs a process of collaging woodblock prints into large scale murals and melding contemporary and traditional forms into powerful sculptures, all while engaging ideas about Blackness and maleness as identities. His recent work takes on personal histories of race, identity, and familial ties.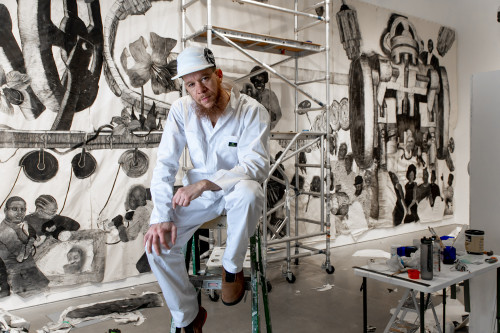 The centerpiece of this show is a monumental 15 by 38 feet collage inspired by Diego Rivera's Detroit Industry Murals (1932-33). In this work, Klos kept the composition of the original mural, but replaced Rivera's faceless factory workers with portraits of Klos' own family, almost all of whom worked in the Detroit Ford factory. He arranged the portraits according to the structure of his family tree. The mural incorporates the representations of family members along with mechanical and natural elements such as vines and trees. In addition to this mural, he collaborated with a group of seven Hamilton College students on a 9 by 24 feet, collage-based wall installation also included in the exhibition.
During a visit to Detroit in early 2020, Klos spent time at the Detroit Institute of Arts carefully examining the Diego Rivera mural, which depicts workers in the Ford factory at that time, and, in the words of Klos, "glamorizes and mythologizes the proletariat labor force."
Klos made compositional studies while studying the Rivera mural and spent time with his family in Detroit to gather portrait photos and family histories about their migration from Memphis and their relationship to the Ford plant. Back in Brooklyn, N.Y., Klos explains, "The inspiration and production of this show comes at a unique time in our global history, and during a breakthrough in my personal history. The works here span several media, and intersect many disciplines, hopefully providing many entry points for the Wellin's diverse community of thinkers."
The exhibition includes over a dozen other artworks—including four wall-mounted sculptures that are a composite of industrial welding and traditional African tribal masks representing an amalgam of the artist's "genealogical and creative DNA."
About Yashua Klos
Yashua Klos (b. 1977, Chicago, Illinois) lives and works in Brooklyn, N.Y. He has had solo exhibitions at Galerie Anne de Villepoix in Paris, Jack Tilton Gallery in New York, and UTA Artist Space in Los Angeles. His work has been exhibited at the California African American Museum (CAAM), Los Angeles; Carnegie Mellon University, Pittsburgh; Goodman Gallery, Johannesburg; International Print Center New York (IPCNY), New York; and the Studio Museum in Harlem, New York; among others. His works are included in the collections of the Kalamazoo Institute of Arts, the Pizzuti Collection, the Seattle Art Museum, and the Wellin Museum of Art. He earned an MFA from Hunter College, City University of New York, in 2009, and a BFA from Northern Illinois University in 2000.
Wellin Museum of Art Visitor Information
Wellin Museum of Art hours are Tuesday through Saturday, 11 a.m. – 5 p.m. Visitors who are vaccinated, boosted, and masked are welcome. The museum is located on the Hamilton College campus on College Hill Road at Griffin Road. Parking and admission are free of charge. For further information, please contact the Wellin Museum of Art at 315-859-4396 or visit the website at www.hamilton.edu/wellin.
Events related to this exhibition
Friday, February 11
noon – 1:00 p.m. | Virtual Tour of the Exhibition
Online Event
Yashua Klos will lead a virtual preview of the exhibition in dialogue with Johnson-Pote Director Tracy L. Adler on Facebook Live.
Saturday, February 12
2:00 – 5:00 p.m. | Opening Celebration
Wellin Museum
Join us for a celebration with the Wellin Museum and artist Yashua Klos.
Monday, March 7
4:30 p.m. | Gallery Walkthrough with Exhibiting Artist Yashua Klos
Wellin Museum
This in-person tour will feature Yashua Klos and Johnson-Pote Director Tracy L. Adler discussing the artworks on view and sharing insights into the collaborative process of developing the exhibition Yashua Klos: OUR LABOUR.
—————————————————————-
Yashua Klos
The artist with OUR LABOUR, 2021 (in process) at BRIC
Woodblock print on muslin and canvas
15ft. 6 in. x 38 ft. (472.4 x 1158.2 cm)
© Yashua Klos
Photo by Andrew Kist