1. Eat & Drink Your Favorite Fall Treats
From fresh-pressed apple cider to cider donuts to pumpkin halfmoons and beyond!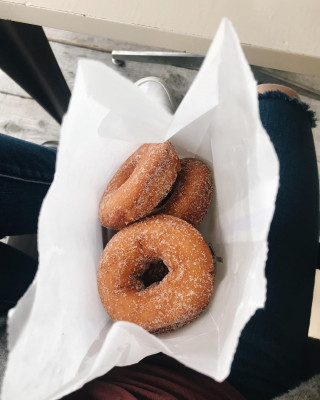 Where:
North Star Orchards – Pumpkin half moons, fresh apples, Concord grapes & apple cider. Check the list below for their other offerings!
Clinton Cider Mill – known for their fresh-pressed cider & drool-worthy cider donuts
Twin Orchards Apple Farm – Fresh, sweet apple cider, hot cider donuts and the infamous apple cider slushies.
2. Get Spooked
Where:
Park After Dark Tour with Casper Cops tours & dive into the Haunted History Trail of New York State. You'll get the exclusive treatment on a guided tour around Sylvan Beach Amusement Park to search for paranormal activity after-hours!
Visit a haunted house like Cayo Industrial Horror Realm or Field of Screams CNY. Cayo Industrial is a walkthrough style horror attraction located inside an industrial warehouse in Rome. It is open during October through Halloween (keep in mind children 16 and under must be accompanied by an adult). Field of Screams CNY offers a haunted trail with different twists and scares around every turn.
3. Go Apple Picking
Where:
Windy Hill Orchard & Farm Market – U-pick apple orchard with many varieties, pumpkins, fresh pressed apple cider, donuts & beautiful views!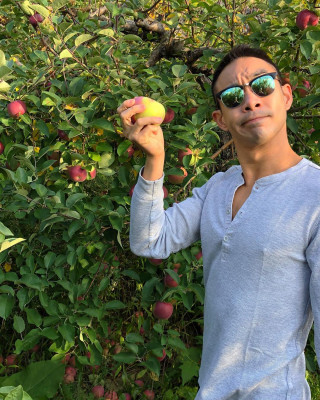 North Star Orchards – U-Pick open Monday-Sunday (8am-6pm) until they run out OR September 30. Some orchards are walking only. Wagon rides begin October 2nd from 10am-4pm.
Savicki's Farm Market – Local apples are for sale if you don't feel like picking your own! Plus, corn stalks, pumpkins, mums and more.
Old McMarley's Apple Farm – Over 40 varieties of apples, custom blended sweet cider & more. Another alternative if you'd rather buy fresh apples.
4. Go Pumpkin Picking
Where: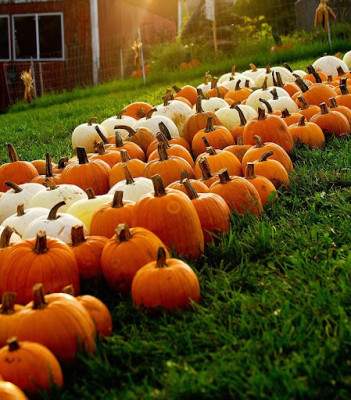 Will's Cackleberry Castle Pumpkin Farm – Pumpkins of all sizes, fall produce, cider, mums, popcorn, maple products, hay bales & more! They also offer Hayrides, a Spooky Walk and other seasonal Halloween events.
Savicki's Farm Market – Self-guided walking path to U-Pick pumpkins, plus U-Pick Indian Corn, hayrides, and a corn maze (like Moonlight Mazes!).
Wagner Farms – Over 10,000 pumpkins are ready to be picked. Check their Facebook page for hours as they change daily! There is also a corn maze & wagon rides (handicapped accessible).
North Star Orchards – In October, U-Pick apples and pumpkins will be available weekends only (10am-4pm). Free wagon rides and fresh air as you ride out to the pumpkin patch.
5. Attend a Local Event or Festival
Where:
Little Falls Cheese Festival – Saturday, October 2. Over 120 kinds of cheese from NYS cheesemakers, gourmet foods and NYS craft beverages!
Woodland Farm Brewery's Cask Ale Festival – Saturday, October 16. 15+ breweries come together from across the state to bring you limited, one-off beers that you won't be able to try again! Event is rain or shine, 21+. For more events, check out our last blog on 8 Annual Fall Festivals to Attend!
6. Try Your Luck at a Corn Maze
Where: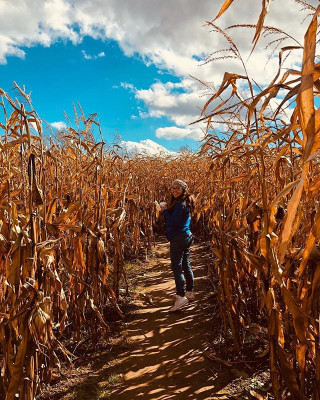 Pumpkin Junction – Pumpkin farm, Halloween store & free CornFusion maze!
Wagner Farms – Tons of family-friendly activities including a corn maze. Check above for more info!
Lincoln Davies Building Supply – Ranging from day time to flashlight corn maze days, check their Facebook page for the full schedule. They also host events like apple pie baking contests, car and tractor shows & more.
7. Take in the Foliage on the Trails
Walk on one of our various natural trails. This blog lists approximately 20 trails for all abilities and ages. It's a great way to get outside, work in some cardio & see the beautiful changing colors.
8. Visit a Local Attraction
What: Adirondack Railroad for their rail bikes, the Utica Zoo, Fort Rickey, Munson Williams, local farmer's markets, or whatever interests you! We wrote two blogs this summer that feature four local attractions you can find here & here.
9. Try a fall-themed coffee drink or snack from a café
Where: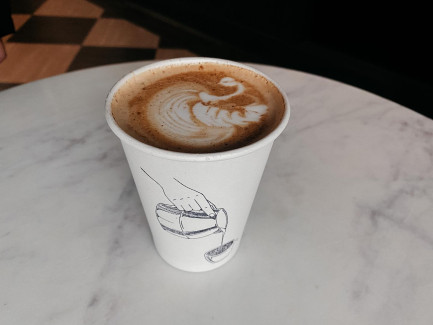 Character Coffee – Apple Butter Latte & more will be added! The owner Katie is always creating innovate drinks while working with local companies.
Utica Coffee – Pumpkin Patch Latte, Apple of my Chai, Witches Brew & other drinks on their fall menu. Don't forget to grab a bag of Apple Pie or Great Pumpkin coffee while you're there!
Calabria Coffee – Try the Apple Cider Chai & for a limited time, you can get Twin Orchard's Honeycrisp Apples & their delicious Apple Cider (frozen, hot or over ice).
Copperccino's Coffee House – Pumpkin spice ice cream, pumpkin chocolate loaf & pumpkin spice scones!
10. Hit our trails (and we don't mean exercising!)
Visit a local brewery or winery on our Heart of NY Beverage Trail for delicious craft beverages. We have brand new trail cards, t-shirts & coasters! Many of these locations also carry cheese products from local partners on the CNY Cheese Trail. Both trails can be completed over any length of time. We recommend calling ahead to make sure each spot is open!