We're back for 2021 with another great Shopping Guide focusing solely on businesses within Oneida County! The blog is broken down into categories like Local Shops and Stores, Unique Gifts (tickets, memberships, etc.), our Heart of NY Beverage Trail & Shopping Events. It's been a difficult couple of years for so many businesses which is why we're encouraging everyone to shop small as much as possible this year. Any purchase, big or small, means so much to these shops and attractions and make for the perfect gifts for anyone on your list!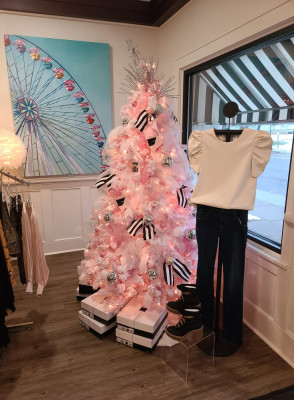 *Please note that we have a large abundance of stores, events, and attractions in the county. It's virtually impossible to include everything! But we're always sharing events, posts, etc. on our social media of more ideas we have so follow along there! And, we made A Guide to Shopping Small & Local This Holiday Season last year that includes other ideas! Please just keep in mind that some locations may no longer be open.
Local Shops & Stores
This set of shops features stores that carry apparel, accessories, home products, etc.
Alabaster + Ash (Remsen)
Shop crystals, smoke cleansing herbs, face & body products, one-of-a-kind items candles, incense, jewelry, and home goods.
All Seasons Outfitters (New Hartford)
The perfect shop for anyone looking for all things outdoors! All Seasons carries high-quality outdoor clothing, sporting goods, work wear, seasonal items, etc. They also sell sports gear for teams like the Utica Comets, Buffalo Bills, Syracuse Orange and more.
Almost Local (Clinton)
A little something for everyone. Art supplies, adventure apparel (Upstate NY gear), baby & toddler gifts and clothing, candles, books, glass and barware, home goods, home décor, stationery, jewelry and SO much more.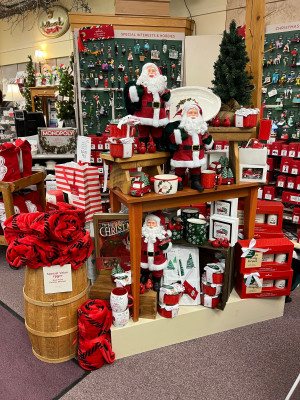 Colozzi's (New Hartford, Utica & Clinton) – Hallmark cards, Yankee candles, purses, jewelry, Christmas ornaments, pottery & an awesome selection of local items! They also opened a new shop in Clinton called Rose Petal Gifts which carries things like their sister stores but additionally has items catering to Clinton, plus Beekman Boys, Magnolia Home and other products.
Evolve Gifts (Whitesboro)
Stephanie and John Witusik set out to create a space where local people can have direct access to sustainable gifts. Stop by their shop or find them at a pop-up event this holiday season for products like clothing, jewelry, notebooks, toys, household items, makeup, bags, tea, snacks & so much more!
Foothills Mercantile (Barneveld)
Features over 50 hand-selected vendors offering a variety of wares including antiques, vintage pieces, collectibles, gifts & more.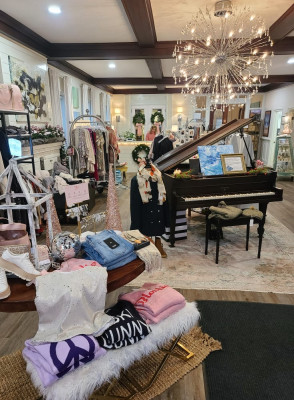 J Liam (Barneveld)
This boutique store carries the trendiest, stylish clothing for women & men like sweaters, boots, jeans and more. They also carry household products like Beekman 1802 soaps, plus accessories & even outfits for your dogs!
Jewelry (Rome, New Hartford, Utica)
You can never go wrong with jewelry over the holidays! We have amazing, locally-owned jewelers in the area like Cunningham Custom Jewelry, Engelbert's Jewelers, & Lennon's WB Wilcox Jewelers. Perfect for earrings, necklaces, custom jewelry, rings and everything in between.
Krizia Martin (Clinton)
Specializing in clothes by Vineyard Vines, Joules, Patagonia, Lacoste & more. They also carry other items perfect for gifts & baby clothes!
Rainbow Cupboard (Clinton)
Air plants and rare houseplants, stone jewelry, incense, sage, vegan snacks, natural foaming soap, patches, crochet, oils, & happy findings!
Runnings (Rome)
This store carries sporting goods, clothing and footwear, women's clothing, & even a Gift Ideas page on their website! Other products include Yeti coolers and tumblers, snacks, household items, pet toys & more!
The Sneaker Store (New Hartford)
Skip the subtly of gift-giving and head to the Sneaker Store & create your very own wishlist. Leave it at the store & send your Santa in to shop and save 10% on any item purchased on the list! Additionally, they've created a Holiday Gift Guide & you can shop online. Use code 'HOLIDAY21' to receive 25% off one piece of apparel on the site!
The Commons and The Shoppes at Turning Stone (Verona)
The Commons at Turning Stone features 4,500 square feet of boutique shopping, with a mix of men's and women's contemporary fashions and casual wear, stylish jewelry, and a diverse selection of accessories. The Shoppes offer a variety of signature stores, perfect for anyone looking for unique gifts for family and friends or of course themselves! Don't forget to check out Gingerbread Village while you're shopping!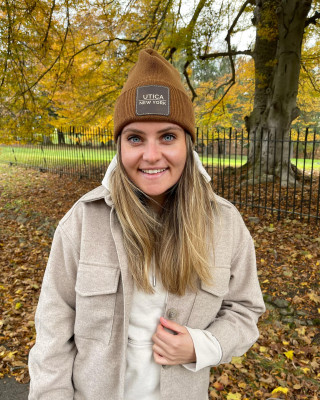 Uticrews Apparel Company (Online & found in local shops)
Your local, Utica-based apparel line serving Utica, Saratoga, and Clinton. Shop online or in spots like Almost Local and J Liam for crewnecks, t-shirts, hoodies, beanies, tanks, baseball hats, baby onesies, dog bandanas & more!
Unique Gifts
This list includes ideas like memberships, attractions, tickets & experiences
Broadway Utica (Utica)
Broadway Utica has announced several top-notch shows for 2022 like Spamilton, Waitress, The Blue Man Group, Jersey Boys & many more. Grab tickets to one of these events for a gift OR become a subscriber. It's a great way to support Broadway Utica while getting perks for all Broadway shows (like seat upgrades & first dibs on shows).
Meyda Lighting (Yorkville)
Meyda's Holiday Sale runs now through 12/31/21. 50-70% off all in-stock Meyda products. Check their website for more info!
Munson Williams Proctor Arts Institute (Utica)
Munson Williams (MPWAI) is currently hosting the Isabelle de Borchgrave Exhibit: Fashioning Art from Paper. If you have any art lovers in your life, treat them to a day at the Museum or stop in MWPAI's gift shop to purchase unique items like fine art prints, bookmarks, magnets, books, jewelry, toys & more.
Rome Capitol Theatre (Rome)
After undergoing several major renovations, the Capitol Theatre is ready to welcome visitors for shows like The Nutcracker, Tuba Christmas & It's A Wonderful Life. Head to their website or stop by to grab tickets for yourself and anyone who loves these holiday classics!
Stanley Theatre (Utica)
Aside from working with Broadway Utica to host shows, The Stanley also hosts several events and shows throughout the year. If you're looking for a unique gift, grab tickets to events like Chevy Chase, Almost Queen, the Allman Betts Band or others!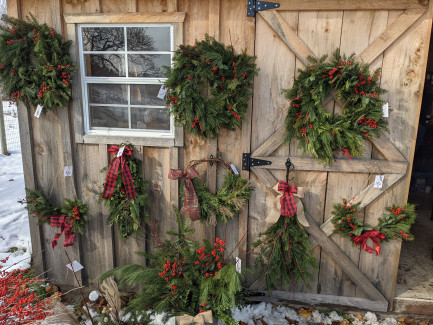 Spring Creek Lavender (Remsen)
Spring Creek has holiday baskets available this season. The Lavender basket includes items like essential oil, a lavender sachet, a lavender ornament and more. Additionally, there are tons of products available on their website like teas, salt and seasonings, body cremes and lotions & more!
Utica Comets & Utica City FC Game Tickets (Utica)
Utica is lucky to have both the Utica Comets & Utica City FC (UCFC)! Both teams play at the Adirondack Bank Center and have games throughout the winter into the spring. These games are family-friendly and a fun event to do with family and friends.
Utica Zoo (Utica)
The perfect gift for kids, families or anyone who's looking for a unique experience! Purchase a Zoo membership, Animal Encounters, day passes and/or don't forget to stop into the gift shop for items like stuffed animals, hoodies and more.
Heart of NY Beverage Trail Deals
Each brewery or winery on this list is part of our Heart of New York Beverage Trail
7 Hamlets Brewing Company (Westmoreland)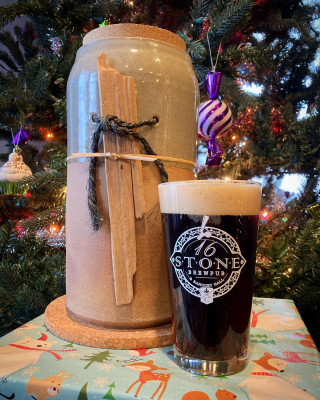 16 Stone Brewpub (Holland Patent)
16% off apparel (in-store only until 12/24/2021)
6% off any banquet booked for a Thursday from 12/3/2021-2/25/22 (Holland Patent only and based on availability). Add a pint of 16 stone beer or seltzer to any sandwich for $3!
Brimfield Farm Winery (Clinton)
Brimfield closes seasonally each winter but if anyone would like to purchase gift cards, gift baskets, or wine for the holidays we can be reached through their website or message them on Facebook!
Copper City Brewing Company (Rome)
-Flight Club Membership – $75 includes a free beer flight monthly for the whole year. $144 value.
-T-Shirt/pint/logo pin/sticker – $25
-Gift Cards – $30 or more and receive a beer chip for a free brew.
-Insulated Growlers – free fill upon purchase (non-barrel aged).
Prospect Falls Winery (Prospect)
Our latest release "Prospect Winter" is our Holiday wine plus additional new swag and gift items.
Saranac Brewery (Utica)
From December 1-15, spend $50 get 10% off or spend $100 get 15% off! Stop by the gift shop for beer, apparel, beanies & more!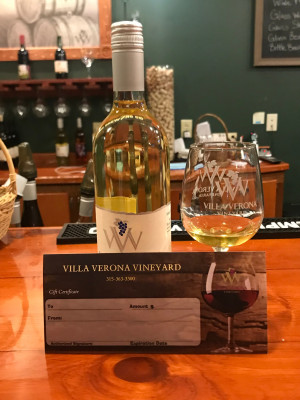 Villa Verona Vineyard (Verona)
Buy $20 Gift Card, get $5 Free. Plus, themed gift baskets Gift Baskets (choose one of the themes like A Bistro Basket, Winery Basket, or Spa Basket!
Shopping Events
Clinton's Late Night Fridays (Clinton)
Friday, December 10 & Friday, December 17
Clinton is filled with unique, locally-owned shops and many of them will be open on 12/10 & 12/17 from 10 AM until 8 PM. Visit the stores for giveaways, raffles, gift cards & more!
Holiday Market at R. Jones Nursery & Landscape Center (Rome)
Saturday, December 11
Join for the 4th year of Holiday Markets celebrating our local small businesses and vendors. Shop for holiday gifts & décor that's handcrafted and locally made. Stop by the café for holiday coffee, breakfast, lunch, baked goods & desserts. Pick up poinsettias, Christmas trees, and wreaths while you're there. Shopping is from 9 AM until 4 PM.