Recovery Sports Grill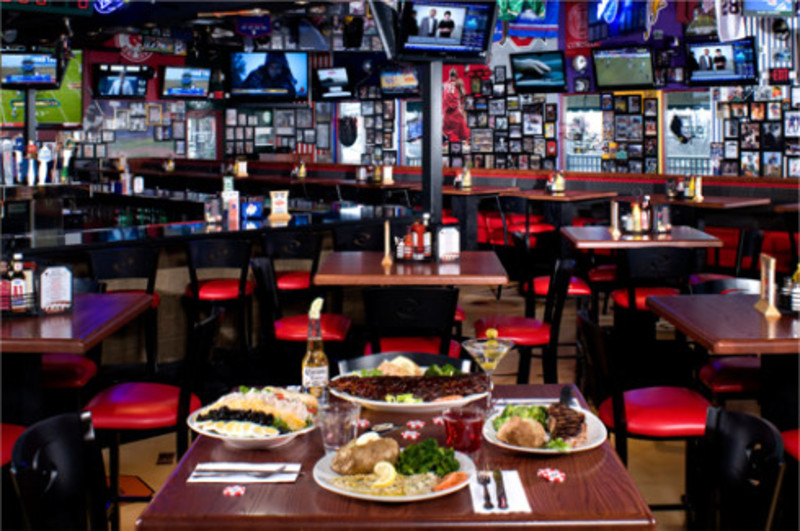 Recovery Sports Gill is a friendly neighborhood sports restaurant with a touch of class and just about every game on TV. You can watch up to 17 different games at once!
We are equal parts casual restaurant and sports bar. The Recovery Sports Grill combines the best of both worlds into a diverse neighborhood gathering place, where friends and family meet to grab a bite, watch the game or just enjoy a beer in our unique atmosphere.
Recovery is a sports fan dream. With TV's everywhere, including 50 HDTV's, 123 big screens and 104 projection screens that all fill the entire wall for your viewing pleasure. There is not a bad seat in the house.
At any moment, cheers may erupt or friendly banter between tables. Everyone gets involved, even the super-sociable Recovery staff. It is like friends having friends over for a great time, with a large menu of hearty American style food as a bonus.
Gather around and order something everyone can enjoy from our menu. From light salads and sandwiches to belly-busting; ribs, wings and pizza and a bunch of choices in-between. We are reasonably priced with healthy portions- perfect for sharing, because sharing the food and the good times with family and friends is what the Recovery is all about.
Stop by and enjoy our relaxed atmosphere on your next outing. We are also equipped to cater to large parties for any event, office parties, birthday parties, sports parties and much more.
A party at the Recovery is the next best thing to being at the stands! At every turn in one of our four locations there's a giant screen to watch your favorite game. Today, Recovery Sports Grills are popping up all over the Northeast, with our brand new location in Verona, Troy, Amsterdam, the original Recovery in Albany and another opening soon in New Jersey.
It is no surprise that when you bring the best food, the best drinks and the best variety of games under one roof you are guaranteed to have a good time. Come on in see the game without a ticket, they don't call us a Sports Theater for nothing!
Beverages:16 beers on Tap, dozens of brands of bottled beer, a wide variety of wine, and of course our personalized specialty drinks. HAPPY HOUR IS MONDAY THRU FRIDAY 4:00 -7:00pm
Television Programming: Direct TV, Direct TV High Def, digital cable service, High Def cable service. THE GAME IS ALWAYS ON AT REVCOERY
Come on in and score big at Recovery and enjoy all of our exclusive amenities.
<p