Buffalo Head Restaurant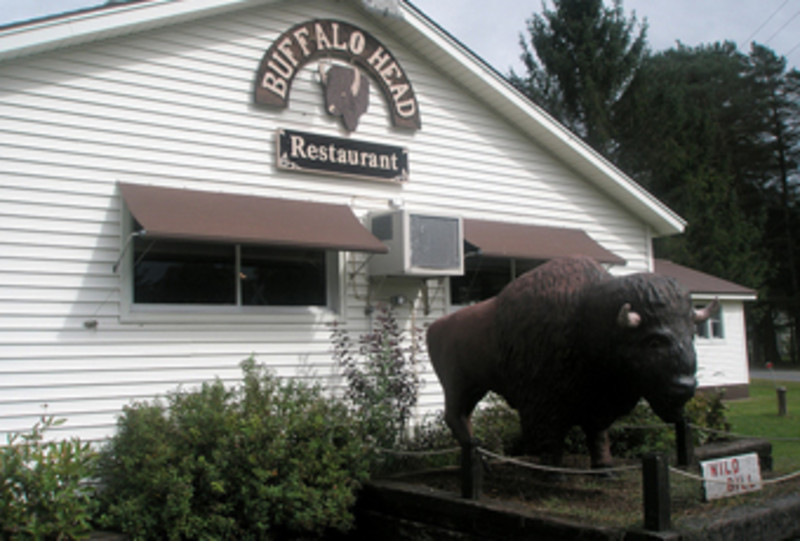 When heading North, be sure to make time to stop at the Historic Buffalo Head Restaurant. The Buffalo Head, located in Forestport Station, has been serving generations of Central New Yorkers. Located across from an old train Depot, the Buffalo Head was originally a lumberjack Hotel. Many years and additions later, the present BUFFALO HEAD welcomes locals, travelers, campers, skiers, snowmobilers ad motorcycle enthusiasts. The inviting Adirondack Atmosphere is enhanced by the warm fireplace in the winter season and the seasonal decorations always offer a welcoming feeling. The family friendly menu offers options for almost any appetite and is reasonably priced, The extensive menu is available throughout the day so those who enjoy a full dinner early as well as those who prefer a sandwich in the evening can both be accommodated.
Prime Rib is one of the BUFFALO HEAD specialties and it is served daily. The Chef hand-cuts all the steaks and they are available in a variety of choices and sizes.  Poultry, Pasta, Entrée Salads, Hot Covered Sandwiches, traditional Roast Dinners, Petite Dinners, Burgers, Grilled Reuben sandwiches, Wrap sandwiches, homemade soup and a children's menu round out the selections. The BUFFALO HEAD has its own baker who makes a variety of homemade pies that are famous in the area for size as well as taste. The baker also makes the dinner rolls and the shortcake biscuit for its very generous Strawberry Shortcake. Some of the most popular dishes include the succulent Dutch Apple Pork, Seafood Newburg, and the Chicken Cordon Bleu is the best around. Of course, the Chef and the Baker both also offer specials everyday so that repeat customers can always find something new.