Sickenberger Lane / Sicken@624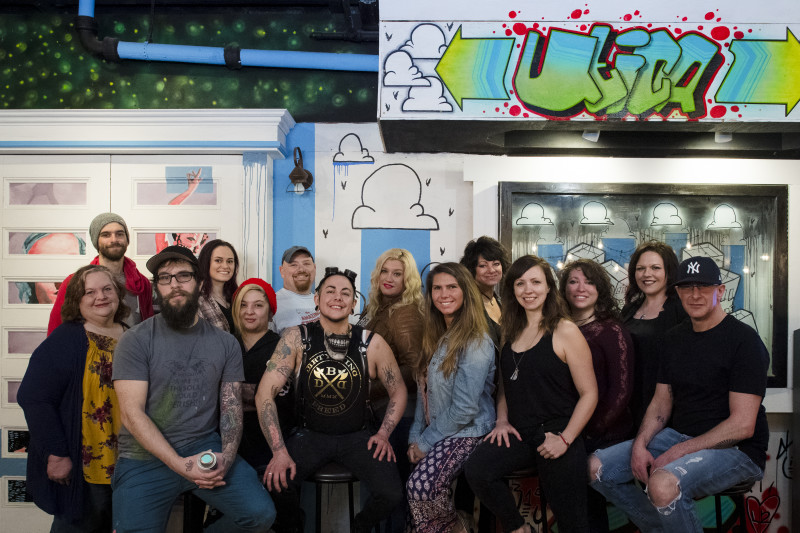 Entire inside of bar, and most of outdoor walls featuring several artists
Artists: Tino Lopez, Gabe Altumuro, Maria Vallese, Angela DeCarlis, Eric Cleveland, Tom Sbledorio, Cathy Marsh, Richelle Maki,, Jennifer Major Quinn, Heather Ruszkowski, Ryan Clement, Keren Vita, Tony Thompson, Victor Lenuzza, Serena Masner, Melody Valdivia,Joe Mandia,  Mandy Drake, Andrew Buffington, Dave Elefante, Joe Zielinski, Alexa McCarthy, Angelica Loconti, Alan Heath
Sickenberger is a local bar located on Varick Street in the heart of the Brewery District of Utica. Owner Michelle Klosek has always been a believer in the City of Utica. Her faith in the power of people working together is on full display at her revamped and re-branded Sicken@264, with the mural project completed in 2019. 
When you step inside, your jaw will drop as you look around and see art everywhere; on the walls, on the bar, on the doors… even in the bathrooms. As you step out into the courtyard, you'll be greeted by even more beautiful art, done by 30 different local artists blended together into a giant masterpiece.
The public art display that now characterizes the former Sickenberger was inspired by a trip Michelle took to see her daughter in Denver, Colorado where she says "public art is everywhere." Michelle says it was that visit that motivated her to bring the idea of public art to Utica - so she reached out to her friend and artist, Angela DeCarlis. Angela is the owner of Be. Life, Art, Magic  Art Studio/Gallery  in Utica, NY , and coordinated the remodel. DeCarlis is also the President of the board for UMN for the Arts (Utica Monday Nite) an arts activist non-profit.
Each artist was given free reign to express themselves in whatever way they chose. Incredibly, in spite of each artist's individual style being so different - everything flows together seamlessly. There are painted bugs, cats, spaceships, typewriters, portraits, and so much more. It's truly breathtaking in its vibrancy and scope.
The new theme for Sicken@624 is "Paint Your Own Lane." Michelle says the message behind the collaboration is that there is power in the whole - everybody can bring their own talents and gifts, and be stronger in cooperation with others.
"We really want the energy to change and the city to be more vibrant, and to bring more artists out and to have more private investors … to invest in art," DeCarlis added.
Angela DeCarlis - Art – Angela Johnson | Creative Coach (belife.us)
Maria Vallese - Retro Sorrento - Vintage Inspired Illustrated and Handmade Designs IG @retrosorrento
Melody Valdivia - IG @mebelle.artist
Alexa McCarthy - IG @amccartsie
Gabe Altamuro - IG @djeaseone
Marc-Anthony Polizzi- www.MAPolizzi.com/ IG-@mapolizzi
Keren Vita- IG-@renscribs
Ryan Clement-IG- @ryan.jessica.art
Joe Mandia- www.joemandia.com
Tony Thompson- IG-@amt315
Tino Lopez-IG- @artlab13creations
Jennifer Quinn-IG -@jennydreaming/ https://www.etsy.com/shop/JMRArtandFurniture
Mandy Drake-IG-@mrsdrakerss
Heather Ruszkowski-IG-@Bella012537
Angelica Loconti- IG-@cy.designs
Andrew Buffington-IG- @bufflers3
Serena Masner-IG- @serena_la_sirenaa