Oneida Community Mansion House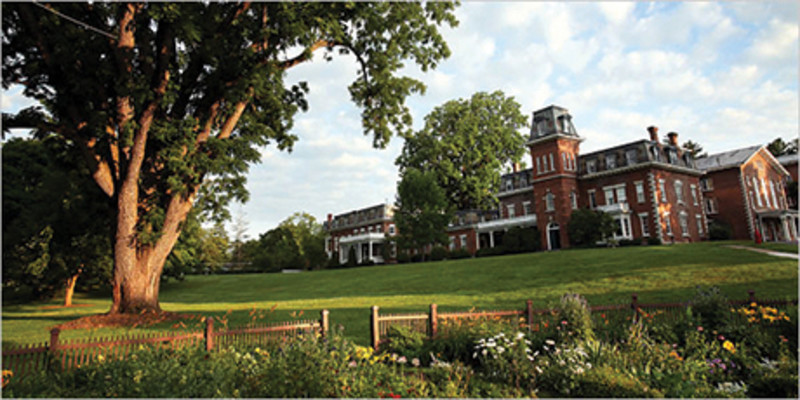 The Oneida Community Mansion House, built in stages between 1862 and 1914, was the home of the 19th century utopian Oneida Community, founded in 1848 as a communitarian experiment. For thirty three years, the religiously-based Community challenged contemporary social practices regarding work, property, gender roles, child rearing, and marriage.
Numbering more than 300 members at its peak in the late 1870s, the Community nonetheless was subject to external and internal tensions and disbanded in 1880, forming a joint-stock corporation out its communal assets. That company, Oneida Community Ltd., achieved world-wide recognition in the early 20th century for its silverware, produced in Sherrill, NY
The Oneida Community Mansion House is a National Historic Landmark and provides guided tours, public programs, exhibits and resources for scholars and students on 19th and early 20th century life.
The main building is wheelchair accessible and open throughout the year except major holidays (New Years Day, Memorial Day, Independence Day, Labor Day, Thanksgiving, Christmas).
The grounds include more than 35 acres of gardens, lawns, and the Community Cemetery, open every day.
New in 2019 Ever wanted to take a look inside Oneida Community Limited's old factory?
Now you can! Join us for a special two-part tour of the Oneida Community's Mansion House and then Oneida Limited's former factory, now the home of Sherrill Manufacturing and Liberty Tabletop.
The tour starts at 10:00am at the Mansion House. Take a break for lunch--grab a bite at one a local restaurant or bring your own and picnic on site--then reconvene at the factory at 12:30pm.
This tour is NOT handicap accessible.
Tickets: $15, spaces limited.
Please call the Mansion House at (315) 363-0745 to reserve your spot and with any questions.