Museum of Art at Munson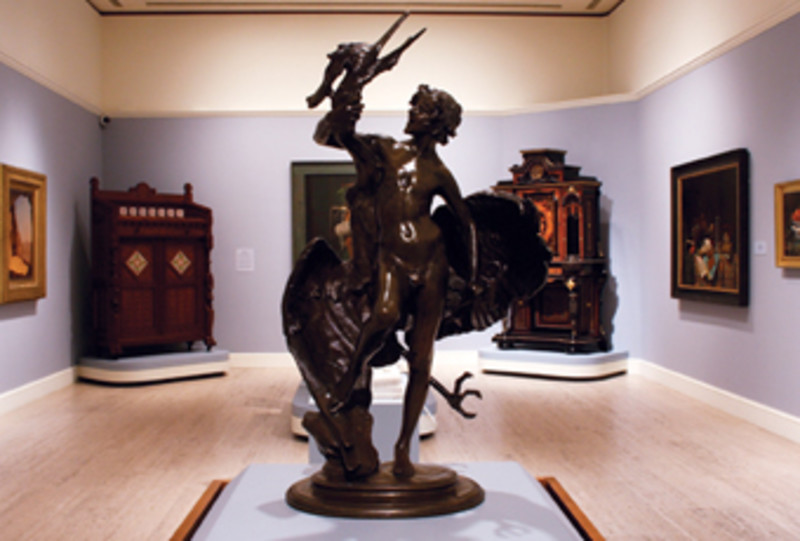 A renowned art collection, fascinating exhibitions, and education programs for all ages are presented in a landmark 1960 International-style building designed by Philip Johnson and in historic Fountain Elms, a superbly restored 1850 Italianate mansion.
In 1962 Architectural Forum magazine cited the Johnson building as one of 10 new structures around the world that contributed significantly to the art of architecture during the decade. The Johnson building and Fountain Elms are connected by a new Museum Education Wing that opened in 1995.
The art collection features more than 25,000 Americans; 20th and 21th-century paintings, drawings, sculptures, 19th-century decorative arts, photographs, European paintings, and European and Asian works on paper. There are works in the collection by Copley, Dali, Frankenthaler, Kandinsky, Mondrian, O'Keefe, Picasso, Pollock, Prendergast, Rothenberg, Stella and Whistler. Also featured is the popular "Voyage of Life" series by Thomas Cole. Decorative arts makers included are John Henry Belter, Herter Brothers, Alexander Roux and Tiffany and Co. Touring exhibitions feature selections from major collections worldwide.
Fountain Elms has been restored as a showcase for the finest in Victorian-era decorative arts. Galleries offer changing exhibitions of nineteenth-century furniture, silver, ceramics, glass, textiles, and the renowned Proctor watch collection.