Black Lives Matter Mural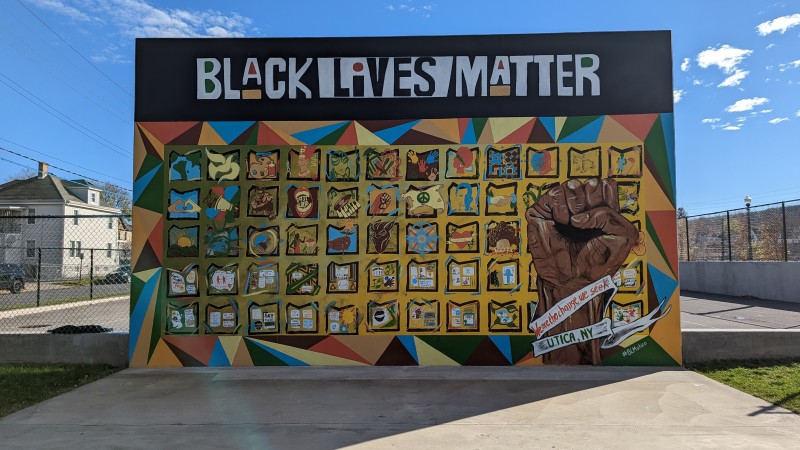 Kemble Park Corner of Kemble St. & James St
Artists: Marques Phillips, Dave Mentus, Joshuwa McKinsey, Deondre Linder, AJ Dyer
Made possible by: Donations from the HomeOwnership Center & the Law Office of Oneka Roach-Campbell
Info: This 16 x 22 ft. mural has a patchwork quilt theme that symbolizes Black heritage and contributions to the city of Utica. Each square is filled with different artwork that represents culture, pride, peace and love. The black squares represent the outline of the Cornhill neighborhood, where the mural is located. 
About the artists: Marques was born, raised and currently lives a few blocks from Kemble Park. Marques has always been an artist - he even designed the logo for the Utica City School District.
Dave (@dropdeaddave_) graduated from Mohawk Valley Community College (MVCC) with a degree in Graphic Design and Fine Art. His design and illustration work is seen throughout Utica on downtown banners, in shows, other murals and more. 
Joshuwa (@joshuwadoesart) graduated from Proctor High School in Utica and went to MVCC to study animation and illustration. 
Deondre studied at Tyler School of Art and Architecture at Temple University in Philadelphia where he studied graphic design and interactive design with entrepreneur studies. 
AJ went to Notre Dame Jr./Sr. High School and studied law at St. Francis College. While working on Broadway and living in the city, Aj has become a big activist for topics he believes in. 
Other things to note: If you walk to the opposite side of the mural where it faces the basketball court, there's another beautiful mural featuring famous basketball players like Michael Jordan, Kobe Bryant, Magic Johnson and more. And, you can continue to walk around the large park, you'll notice another long mural featuring families and kids to highlight the community.