Adirondack Bank Center – Utica Auditorium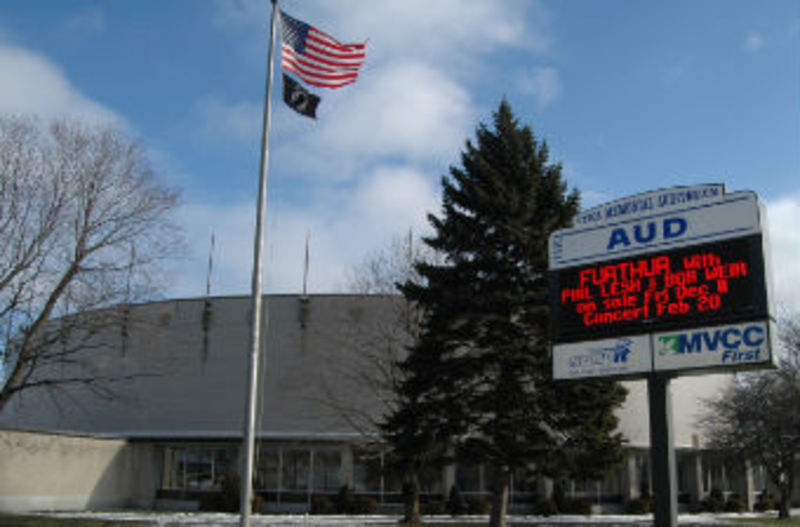 The UTICA MEMORIAL AUDITORIUM was built by the City of Utica in 1959 on the site of the old Erie Canal on land donated by the State of New York. Dedicated to the memory of area veterans and the wars in which they served, it was, at the time, one of only three arenas worldwide that had a completely unobstructed view-no support pillars to see around. Madison Square Garden in New York City is actually modeled after the Auditorium
The City operated the Auditorium from 1960 until 1996. The Grateful Dead, Bruce Springsteen, ZZ Top and Kenny Rogers were just a few of the many performers that wowed crowds here in Central New York, as did perennial favorites Harlem Globetrotters, Ice Capades, and professional boxing and wrestling. Even Hollywood came calling when scenes from the movie Slap Shot, starring Paul Newman, were filmed here.
Late in 1996, the AUD, as it is known locally, was sold to the Upper Mohawk Valley Memorial Auditorium Authority, which continues the fine tradition of bringing affordable family entertainment to the people of Oneida County and the surrounding areas.
The UTICA MEMORIAL AUDITORIUM offers comfort convenience, capacity and accessibility for a broad range of entertainment types. From hockey games, to concerts, from computer shows to wrestling matches, from circuses to food festivals, the wide variety of floor plan layouts and 5,000+ seating capacity offers several different configurations for maximum attendance and viewing
The AUD has hosted several sold out concerts in recent years including Godsmack, Oysterhead, Disturbed, and Avenged Sevenfold with Buckcherry. Annual favorites include Monster Trucks, the Ziyara Shrine and Jordan Circuses, Harlem Globetrotters, college and high school hockey, wrestling, cheerleading and gymnastics competitions, the AUD showcases its diversity and capitalizes on its centralized location.
n 2017, The Upper Mohawk Valley Auditorium Authority and Adirondack Bank announced a 10-year, multi-million-dollar agreement to amend the name of the newly renovated Utica Memorial Auditorium facility to the Adirondack Bank Center. This venue serves as the home of the Utica Comets, Utica College Men's and Women's hockey programs, Utica Jr. Comets organization, and a host of world-class concerts and events.
Whether it's concerts, sports or family shows - whether it's national, state or local programming, the The Aud continues to be a premiere entertainment venue year after year.