A Tribute to Downtown Utica Theatres: Past & Present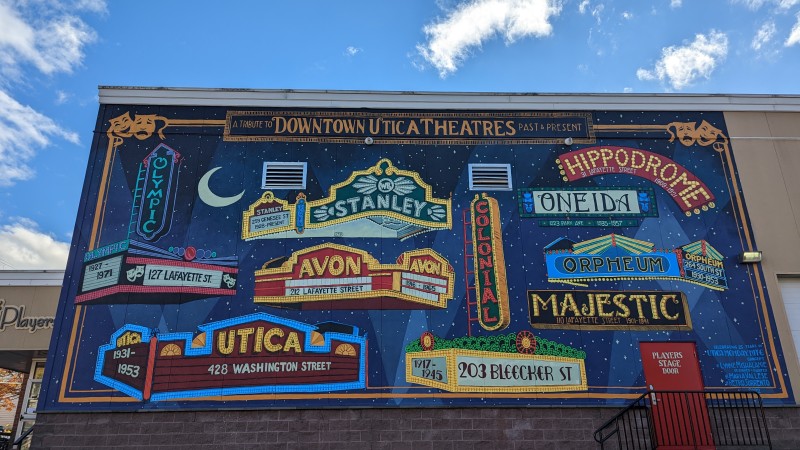 Artist: Maria Vallese of Retro Sorrento
Info: The 30 x 50 ft. grand mural is on the exterior north-facing wall of the Players Theatre on State St. In partnership with Rust2Green Utica and in celebration of the 25th anniversary of Utica Monday Nite (Lynn Misalanie - need to add in her involvement and passion for arts), this colorful mural depicts historical marquees from the "golden age" of movie houses in downtown Utica. 
About the artist: Maria Vallese is an illustrator and artist living in Utica, NY. She specializes in color-saturated artwork and illustrations, inspired by building architecture, interesting places and people and a little bit of nostalgia. Maria has worked with several businesses, big and small, to develop illustrations for brands and products. She also takes on private commissions for building illustrations, such as this. Maria event designed labels for our local flagship brewery, Saranac between 2016-2020. 
About the mural: The mural was conceived and spearheaded by Players board member Lynne Mishalanie and executed by Maria. It features nine Uitca movie theaters from the early 1900s to the mid-60s including: The Stanley, Olympic, Majestic, Colonial, Oneida, Hippodrome, Utica, Avon, and Orpheum, along with their years of operation. It was designed in honor of Utica Monday Nite's 25th anniversary. 
https://www.wktv.com/news/a-massive-mural-unveiled-at-the-players-of-utica/article_08b7ad2c-54aa-11ed-b730-dbb8ab7b5b69.html 
https://www.uticaod.com/story/news/local/2022/09/06/mural-celebrates-citys-historic-theaters-and-utica-monday-nite/65470730007/