Boonville Black River Canal Museum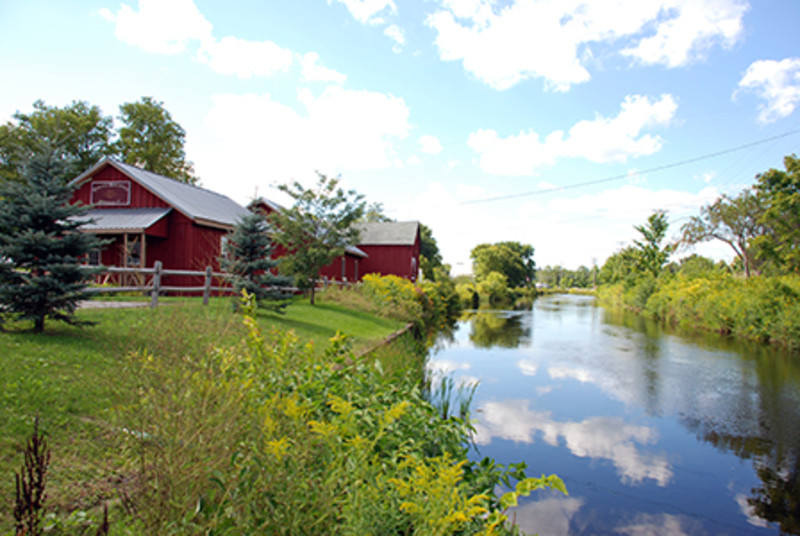 502 Water Street, P.O. Box 122
For more than half a century, the Black River Canal played a central role in the life of the North Country. Appreciating the rich historical legacy on the canal, a group of interested Boonville residents secured a charter from the NYS Board of Regents to construct a museum that will preserve, house and display artifacts from the canal era.
The first building is the Hemlock Mercantile that houses a pictorial history of the Canal and surrounding communities and other static displays . It also houses the Hemlock General Store that features gifts for young and old. books and canal memorabilia.
An original one-of-a-kind canal warehouse was restored. This warehouse was used for mules and storage during the active years of the Black River Canal. This building now houses a working mini-canal for children of all ages to run model canal boats through the l mile. The warehouse also houses an interactive pulley system that shows how different pulley set-ups distribute weight and there are two miniature crane systems that will be hands-on to allow the visitors to put supplies on a canal boat. In addition there is a full size working canal boat rudder with a moving deck. The visitor will be able to feel what it is like to steer a canal boat.
There is a full size replica of a canal boat that has been christened the "Walter C. Pratt."  This boat was built using original construction plans. Inside the boat are displays showing what life was like living and working on the canal with static and picture displays, as well as a diorama of the Black River Canal Profile.
In the Conference Center there is a climate controlled Archives room, meeting/conference room/mini- theater, and a hallway gallery that has several static displays from the canal era  along with pictures of Boonville and surrounding communities from days gone by.
A handsome canal walkway, lined with early 20th century street lamps, now extends South from Main Street and State Rt. 12 junction. Volunteers relocated an original bowstring cast-iron Whipple Bridge, one of only seven such bridges still in existence, to the walkway. The walkway extends to Pixley Falls State Park. The 10-mile long towpath between Boonville and Forestport has also been improved. The towpath starts across from the museum complex at the Covered Bridge.
The museum's hours of operation are weekends starting Memorial Day week end through the last weekend in June and the month of September through Columbus Day. The museum is open seven days a week starting the last weekend in June through Labor Day. The hours are 10:00am to 4:00pm. We are closed in the winter.
For information on guided group tours and school group tours, contact Daphne Larrabee at at (315) 942-5164. Be sure to check our website www.boonvilleblackrivercanalmuseum.com for updated news and events concerning the Black River Canal Museum.