AMTRAK – Boehlert Transportation Center-Utica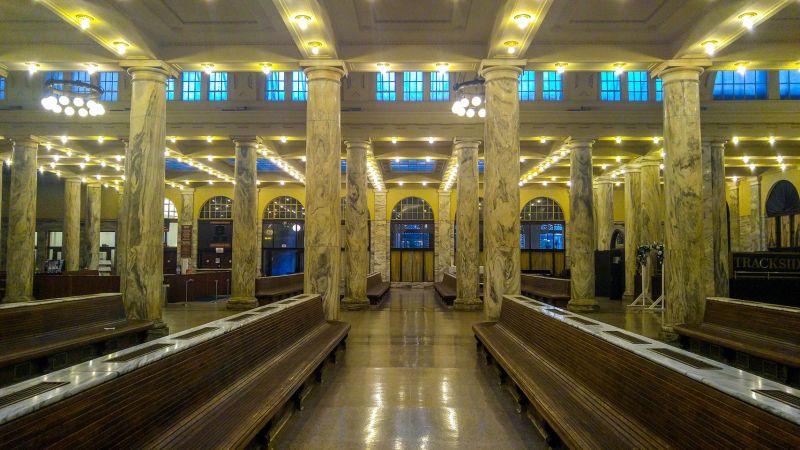 The Boehlert Transportation Center at Union Station is a train station served by Amtrak and the Adirondack Scenic Railroad in Utica, New York. It is owned by Oneida County, and named for retired U.S. Rep. Sherwood Boehlert, R-New Hartford.
The station was built in the Italianate style and includes a rusticated granite first story with buff brick above. Symmetrically rectangular in plan, there are thirteen bays across the façade and fifteen on the side elevations. A brick parapet crowns the building; over the main entrance is a large clock flanked by eagle sculptures. The Utica station was added to the National Register of Historic Places in 1975.Inside is a restaurant and a barber shop, one of the few barber shops in a train station today. The 15000sqft waiting room's 47ft vaulted ceiling is supported by 34 marble columns. The station's blueprints called for the importing of columns that originally adorned Grand Central Station in New York City. Eight large benches are heated with steam pipes and vents.
History: The station was built between 1912 and May 1914, replacing an older structure dating from 1869. The building was designed by New York architects Stem and Fellheimer. Construction involved the rerouting of the Mohawk River. The Mohawk River was relocated due to the risk of flooding and the proximity of the river to the railroad, which had become a problem for the expanding city. Built as a New York Central Railroad station, in 1915 it became tenanted by the Delaware, Lackawanna and Western Railroad and the New York, Ontario and Western Railway as well, those two companies abandoning their structures.